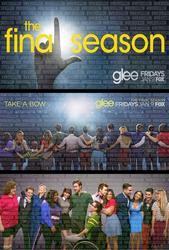 TV Info
---
Episode Premiere
April 20, 2010

Distributor
FOX

Genre
Comedy, Musical

Show Period
2009 - now

Production Company
Ryan Murphy Productions


Cast and Crew
---
Director
Ryan Murphy
Screenwriter
Ryan Murphy
Main Cast
Additional Cast
Synopsis
---
Sue scribbles eagerly in her journal about how much she worships Madonna, "the most powerful woman to ever walk the face of the Earth." Soon, she is in Principal Figgins' office, demanding that he blast Madonna's music in the hallways. When he refuses, she reminds him that she's blackmailing him.
At Cheerios practice, Sue encourages the girls to date younger men and only acknowledge themselves by their first names -- just like Madonna.
Rachel approaches the other Glee girls to talk about dating. Since they think she has broken up with Jessie for the sake of the team, she explains how "hypothetically" her date wanted to do "it." The girls lamest about their guy problems: Santana and Brittany never say no, Mercedes wishes she had a boyfriend, and Tina complains about wanting her to change her style.
Overhearing the girls discuss the pressure they get from boys, Will encourages them to speak to Emma for advice. However, Emma's own lack of sexual experience leaves her feeling incapable of helping. Will and Emma decide to work together for the girls' benefit -- and maybe even provide Emma help along the way.
While watching the Cheerios perform an elaborate routine to a Madonna song, Will has a flash of inspiration. He announces to Glee that their assignment is to come up with a Madonna number. The girls are excited but the boys would rather choose a masculine equivalent, like Pantera. Will chides the guys for not being nice to the girls. He asks them to think about walking in their shoes. Puck claims that Madonna's music won't translate to show choir, so the girls perform "Express Yourself" to prove him wrong.
Brittany, in full Madonna hair and makeup, has already snagged a much younger boyfriend, per Sue's orders. However, Santana isn't having any luck. Brittany suggests she give Finn another try, since he is three days younger than her. Santana approaches Finn and offers to take his virginity. At first he declines, but then Santana tells him that Rachel is still dating Jessie.
Emma summons Sue to her office, the only room in the school that Madonna music isn't playing. Sue believes Emma doesn't deserve the power of Madonna because she lacks self-confidence and sexual magnetism, so she had the intercom disconnected in there.
Finn asks Rachel if she's still dating Jessie, and she comes clean, begging Finn to still be her friend. Although he accepts, Finn warns her that, if it leads to something bad for the team, she shouldn't expect him to still be her friend.
All of McKinley High is embracing Madonna, with many dressing in the various iterations of Madonna style. Kurt and Mercedes excitedly speak with Will about the Madonna video they're creating. Sue is angry that the Glee kids are doing Madonna songs, since it's "her thing." Will stands up to Sue about it as well as all of her hair jokes, and he even doles out a few hair zingers of his own.
Noticing how much Will's hair jokes affected Sue, Mercedes and Kurt approach her about it. Sue confides that, while younger and raising her handi-capable sister, she had little time or money to keep up with the latest styles. When the Madonna song "True Blue" was released, she and her sister tried to bleach Sue's hair with chemicals from around the house. Her hair was so damaged that she hasn't been able to grow it long ever since. Sue admits that she only picks on Will's hair because she's jealous. Mercedes and Kurt offer to help, wanting to utilize Sue and the Cheerios for their music video.
Finn tells Santana that he will sleep with her. Meanwhile, Rachel secretly meets with Jessie and he apologizes about pressuring her to have sex. Rachel says she deserves "epic romance" and warns him about breaking her heart. When he obliges, she tells him she's ready.
Emma lets Will know that she's decided to be more like Madonna by taking control of herself and her body. She wants to "do the nasty" with him that night.
Artie and the AV club film Mercedes and Kurt's music video -- a remake of "Vogue" starring Sue looking like Madonna, with requisite hairstyles.
The couples prepare for their big nights.
The next day, Mercedes and Kurt are triumphant about their video. Although they are curious to see which hairstyle Sue will wear, she shows up with her normal, short cut. Sue realized she shouldn't copy Madonna's style because she's powerful and original, just like Madonna. She doesn't need to reinvent herself -- Sue wants to reinvent everyone else, and she decides to start with Mercedes and Kurt.
The next day, Rachel and Finn discuss their big dates. Rachel claims she went through with it although she really didn't. Finn tells her that he wasn't able to go through with it, but he is also lying. He did have sex with Santana but, because it wasn't with someone who meant something to him, he's not feeling any different.
Emma too could not go through with it. Will tells her that she did take ownership of her body by knowing she wasn't ready. Will realizes that he's been behaving just as badly as the boys in glee club, and he plans to institute a no-dating policy until his divorce is final. He admits that he filed the papers that day. Will gives Emma information about counseling provided by their health union to sort out her own issues.
Will announces to the glee club that Jessie has transferred to McKinley High School. Although Rachel is excited that she no longer has to hide her relationship, the other kids are suspect that he's a spy for Vocal Adrenaline. Kurt and Mercedes are even more wary because this is one more person blocking their chances at finally getting a lead. Jessie thinks they should all be happy because he'll help their chances of winning at Regionals.
A dejected Mercedes and Kurt finally get the lead songs -- as members of the Cheerios, who now sing along with their cheers. Will is disappointed that Mercedes and Kurt have joined the Cheerios, but they explain that they joined so they'll get a chance to shine. They are going to take part in both Cheerios and Glee.
With Glee morale at a low, the boys try to get together to perform a Madonna song. Artie realizes that he may have been objectifying Tina, and Finn agrees that they've been treating the girls poorly. Kurt speaks up as an "honorary girl" and says the team only works because they respect each other. He asks why Will is also singing, and Will admits it's because he needs to learn that lesson as well.
Artie apologizes to Tina. Then Finn apologizes to Rachel, admitting that he really liked her but that he blew his chances. Jessie challenges Finn to a "sing-off" but Finn merely welcomes him to New Directions. Finn says he'll do his best to stay away from Rachel.
Joined together once more, the glee club performs with a choir.