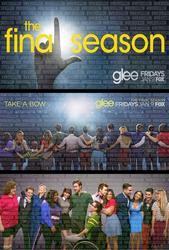 TV Info
---
Episode Premiere
April 13, 2010

Distributor
FOX

Genre
Comedy, Musical

Show Period
2009 - 2015

Production Company
Ryan Murphy Productions


Cast and Crew
---
Director
Brad Falchuk
Screenwriter
Ian Brennan
Main Cast
Additional Cast
Synopsis
---
Mercedes, Rachel and Kurt excitedly walk the halls of McKinley High after returning from their victorious performance at Sectionals, convinced that they'll now be popular and school heroes. Their hopes are dashed when they are once again bombarded with slushees.
Will meets with Principal Figgins only to find out that the glee club still isn't safe from being disbanded. They must now win Regionals in order to save the club. Will also learns that Sue is returning as coach of the Cheerios -- she slipped Figgins a drug and is blackmailing him with a compromising photo. Will implores Sue to call a truce, but she reiterates her agenda to eliminate glee club.
With football season over, Finn is now caught up in basketball but his game is clearly off as Rachel cheers from the stands. Believing him to be her boyfriend, Rachel makes him "a relationship calendar." Finn starts to miss Quinn.
Will assigns the glee club to use a song with the word "hello" in it to inspire and reinvigorate them, post-Sectionals.
Sue convinces Santana and Brittany to seduce Finn and cause Rachel to quit. When Rachel confronts Finn about his upcoming date with the pair, he says he doesn't want to be her boyfriend. He thinks he needs to find out who he is first. "I'm the only person in your life who knows you and accepts you for who you," she replies.
At the music bookstore, searching for her next number, Rachel is approached by Jessie St. James, the senior lead of rival Vocal Adrenaline and the male diva version of Rachel. He plays "Hello" at the piano and they sing a duet. Jessie asks Rachel out for Friday night.
Finn goes on his date with Santana and Brittany, yet they act oblivious to him. When they badmouth Rachel, Finn stands up for her.
On Will and Emma's first date, they listen to "Hello Again" and decide to make it their "song" since it's about friends who decide to become more. Will and Emma kiss, but things cool off when she admits that she's a virgin.
Finn decides he doesn't want to date other girls, but when he tells this to Rachel, she confesses about her relationship with Jessie. Finn wonders if it's a little suspicious that Jessie is showing interest now that they have won Sectionals. Rachel dismisses his accusation. Finn tells Will about this news.
Will goes to see Shelby Corcoran, the coach of Vocal Adrenaline. He asks about Jessie's intentions and questions whether they are spying. Shelby answers that "the heart wants what the heart wants, sometimes there's that little spark." The spark ignites between her and Will as they passionately make out. Yet Will stops before it can go further. He admits that he's still not divorced from Terri but that he's also seeing Emma. Shelby suggests that he "take a little breather."
Mercedes, Kurt and Artie confront Rachel about her new boyfriend. They force her to choose between glee club and Jessie.
At Will's house, Emma is preparing a surprise dinner when Terri shows up. Emma tells her that "Hello Again" is their couple song, but Terri notes that it was her high school prom song with Will.
Sue introduces Rachel to the McKinley High School "Old Maid's Club." This fake gathering is done in an effort to scare Rachel about being alone and persuade her to keep seeing Jessie.
Rachel asks Jessie if his feelings are genuine, and he says that they are. She warns him that they can continue, but "no one can know." As he kisses Rachel, Jessie spies Shelby watching them from the wings of the stage.
Emma shows Will the McKinley yearbook listing his prom song as "Hello Again." She thinks this is Will creating the same patterns he had with Terri. Emma encourages him to spend some time alone.
Rachel lies to Finn about ending her relationship with Jessie. Finn now wants to be a "real couple" with her, but Rachel refuses because she doesn't want to jeopardize the team. Finn says he won't give up that easily.