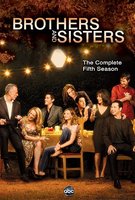 TV Info
---
Episode Premiere
January 18, 2009

Distributor
ABC

Genre
Drama

Show Period
2006 - 2011

Production Company
After Portsmouth, Berlanti, Touchstone TV


Cast and Crew
---
Director
Laura Innes
Screenwriter
Sherri Cooper-Landsman, Peter Calloway
Main Cast
Additional Cast
Nigel Havers
Eric Christian Olsen as Kyle DeWitt
Will McCormack
David Brisbin
Cotter Smith
Kaitlin Doubleday
Kim Delgado
Synopsis
---
The Walker women have a hot night in the city. Maybe.
The evidence: The morning after a big party, Sarah, Nora and Rebecca crowd into a hotel elevator. Their hair is wildly messed up. Clothes disheveled. Makeup runny. Somebody had some fun, right?
Flash back to 48 hours earlier:
Nora is going gaga over Roger's building material samples. And, it's clear from the look in her eyes, she's going gaga for the architect himself. Saul sees it, too. She's positively drooling over him.
Anyway, the big party that's being planned is the Greenatopia launch party at a swanky hotel rooftop downtown. Sarah reminds her business partners, Ethan and Kyle, that it needs to be a spectacular event. But, most importantly, they have to wow the socks off of Arlo Natterson, a big-time potential investor.
When Justin arrives to pick up Rebecca for the party, he immediately gets an urgent call from his new Narcotics Anonymous sponsoree, Chelsea, who's having a crisis moment. Justin rushes off to help her, leaving Rebecca in the lurch. Not good.
At the party, Sarah, Ethan and Kyle get great news: Arlo, the superstar investor, has agreed to put his money behind Greenatopia. Jackpot!
Also at the party, Nora continues flirting with Roger. She's out on the dance floor with him and there is just ... well, we've NEVER seen that look in Nora's eyes before. Like she's going to devour Roger whole right there. But also, she's drunk. Real drunk. Roger whisks her away to find a place where she can lie down for a bit. You know, "lie" down. Wink, wink.
Then, Ethan brings Sarah some champagne to celebrate their good fortune. But Ethan has something more than business on his mind. He calls Sarah gorgeous, funny and brilliant. Uh oh. Oh yes, he is. He leans in and kisses her! Funny thing is, she smooches him back! That can't be good for business ...
Later, Rebecca finally hears from Justin. He's ultimately not going to be able to make it to the party. Although she doesn't tell him, but that ruins her surprise. She's rented the hotel's honeymoon suite for them to spend the night in.
But the surprise is on us when Rebecca brings Kyle up to the suite. Nooooo! Oh good, it really is no. Kyle makes an offer to spend the night with Rebecca, but she turns him down. She loves Justin despite what's he's done tonight. Color us relieved. Like a gentleman, Kyle leaves and Rebecca lies on the bed covered in rose petals by herself.
In another room, Ethan and Sarah are making out ferociously. Looks like Ethan's greatest dream is about to come true. Until ... Yes, until Sarah comes to her senses and pulls back. Ethan said exactly what she wanted to hear at the party, but now she realizes it's wrong to take advantage of the young man like this. So, they won't be getting it on, either.
What about Nora? In yet another room, she rolls around on the bed with Roger. He kisses her passionately on the neck. And she ... passes out. Drunk. Looks like nobody's gettin' any tonight.
The next morning, Sarah, Nora and Rebecca are in the elevator. They get out in the lobby and run into Justin. He's upset Rebecca wouldn't answer his calls. He apologizes for skipping out and Rebecca reminds him that she hasn't checked out yet. The two lovebirds make a mad dash back to the elevator.
Finally, Roger visits Nora at home. She apologizes. She acted the way she did because Roger makes her nervous and she's not sure why. We do! He's charming and good-looking and ... Nora says to him, "I wish you kissed me 30 years ago." Roger replies, "What about now?" Smart guy. And she does.