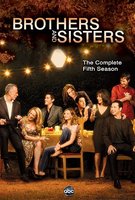 TV Info
---
Episode Premiere
December 07, 2008

Distributor
ABC

Genre
Drama

Show Period
2006 - 2011

Production Company
After Portsmouth, Berlanti, Touchstone TV


Cast and Crew
---
Director
Michael Schultz
Screenwriter
Molly Newman, David Marshall Grant
Main Cast
Additional Cast
Synopsis
---
It's time for another Walker family chaos-filled Thanksgiving. Or, maybe not ...
All the Walker siblings make alternate plans with their significant others' families for Turkey Day - with the exception of single Sarah - and not one of them has the nerve to tell Nora. They gather at the house while Mom's out to figure out how best to break the news to her. Some advice if we can: Do it from a distance!
But, too late. Nora comes home from the supermarket with the traditional 30-lbs. turkey and all the trimmings to cook. Kitty, having drawn the short straw, breaks the bad news. And no amount of positive spinning by Sarah will get the others off the hook. Nora is disgusted with her kids and who can blame her. Sarah chucks potatoes at all of them. They deserve worse.
After that debacle, Tommy has to deal with a terrifying emergency. His two-year old daughter Elizabeth has thrown up blood in her crib.
Tommy and Julia race Lizzie to the E.R. where they discover their baby is having massive liver failure. It's probably the result of all the drugs shot into her little system when she was born prematurely. The poor girl! The doctor says it's likely Lizzie will need a transplant. A slice can be cut from a donor's healthy liver from which a new liver can be grown inside her. The catch:
The donor has to be one of Lizzie's biological parents. Julia is the wrong blood type and Tommy, well, as we know he's not her biological father. Both his brothers, Justin and Kevin, donated their sperm to impregnate Julia so that nobody would ever know which one was the real biological dad.
Now, since Justin and Kevin are the same blood type, the hospital performs a DNA test on both of them to figure out definitively whose sperm got Julia pregnant.
As Scotty, Kevin and Justin try to scarf down some bad hospital food, Tommy has the test results. Last chance to place your bets. And, the father is ... drum roll, please ...
KEVIN! (We hate to gloat, but we totally knew it!) (Ok, we didn't.)
Kevin gets prepped for surgery and Justin has a mild, crabby freakout. He barks at Rebecca and Nora. Is he jealous? Relieved? A little bit of everything, we presume.
Scotty spends the night in Kevin's hospital room as they await surgery. He's terrified something terrible could happen to his husband during the procedure. Who wouldn't be?
The next morning, Tommy and Julia - like us - bawl their eyes out as Elizabeth is wheeled into the operating room. This just has to work!
Kevin comes out of surgery first. He's fine. Drugged up beyond belief, but fine. While he recovers, Tommy visits him alone and apologizes for everything he's done recently, especially firing him from Ojai Foods. Tommy swears he'll never put business before family again. Thank god it looks like these two have finally patched things up.
Elizabeth has survived her surgery just fine, too. Thank. God. No signs of organ rejection or anything. With that good news, Nora invites Tommy and Julia to get something to eat.
There's a surprise: Nora has brought her Thanksgiving feast to the hospital cafeteria. And even Saul has snuck in some booze hidden in a sparkling cider bottle. Nora toasts Elizabeth, who has given all of them something special to be thankful for this year. Now, dig in!