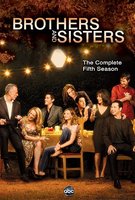 TV Info
---
Episode Premiere
November 09, 2008

Distributor
ABC

Genre
Drama

Show Period
2006 - 2011

Production Company
After Portsmouth, Berlanti, Touchstone TV


Cast and Crew
---
Director
Michael Owen Morris
Screenwriter
Jennifer Levin, Sherri Cooper
Main Cast
Additional Cast
Tymberlee Chanel
Rose Abdoo
Synopsis
---
Justin surprises Rebecca by showing up at her place-and secretly watching her while she's taking a shower. Are we watching Brothers and Sisters or Psycho? We're given another shock when Justin tells Rebecca he loves her, and she doesn't say it back.
Kevin's now working as Kitty's replacement in Senator Robert McCallister's office. One of Robert's aides tells Kevin to look into a Sacramento Tribune writer who's threatening to publish a story about Robert and Governor Kearn having an intimate relationship. Given that Kevin's sister is Robert's wife, we're wondering if this is conflict of interest or a just plain icky situation?
Kitty and Robert meet with Trish, the birth mother of their prospective adoptive baby-and are surprised to find that she's a neurosurgeon. All goes well until later, when we yet again see Kitty's neurosis sets in, and she begins to wonder if Trish will change her mind about giving up her unborn kid at some point. When Kitty poses this question to her, Trish gets offended and says the McCallisters aren't a right match for her.
Nora tells Saul that George Lafferty decided not to tell his son that he's the product of an affair with William Walker. So color us surprised when George calls Nora, saying he's having second thoughts, and might actually tell Ryan. Then color us wanting to strangle Nora when she comes up with the not-so-brilliant idea of inviting George along to Tommy's anniversary party. Her plan is to secretly pass him off as her date, so he can see what a close family the Walkers are.
The Tribune reporter meets with Kevin and shows him photos of Governor Kearn and Robert arriving in the back entrance of a hotel. Kevin later questions Robert about it, at which point Robert angrily tells Kevin he'd better start learning to trust him or the job isn't going to work out.
As they work out of her home, Sarah is having a hard time getting the Greenatopia guys to focus on setting up the business. Kyle seems preoccupied with playing guitar, while Ethan practices and magic tricks. Just then, Julia calls Sarah, upset that the magician for their anniversary party canceled at the last minute. You do see where this is going, don't you?
Kitty and Robert argue when she tells him about her encounter with Trish. She tells him she'll fix it, but we can't shake the feeling that the stroller may have already sailed.
At the anniversary party, Nora introduces George to her family as "Elton." Her cover is blown when Kitty shows up at the anniversary party and recognizes George from the Bakersfield trip. Later, Holly talks with George at the party, and he suddenly leaves, telling Nora that he's not going to tell his son Ryan the truth about his real father.
A fortune teller at the party informs Rebecca that Justin isn't the one she'll ultimately be with, and that she'll meet the great love of her life in the future. In a panic, she tells Justin that she loves him. Geez, real romantic. Justin gives Rebecca his key to her apartment back, and storms off. Can we really blame him?
The next day, Rebecca invites Justin over for a romantic dinner, and explains that she was just scared because she never told anyone she loved them before. "I know that I said that I wanted to wait for the right moment," she says. "But there is no right moment, because it's every moment. I love you."
Kevin gives the newspaper reporter the false explanation that Robert and Governor Kearn were meeting at the hotel to discuss their positions on Proposition 8. It kills the salacious story, but Robert is furious that Kevin, thinking he's trying to push his own political views-i.e., gay rights. Hmph. Where's the gratitude, Senator?
Kevin says trust is a two-way street, and questions Robert on why he was really at the hotel. It turns out she actually is having an affair, but only asked Robert to meet up and give her some advice on what to do.
Meanwhile, Kitty shows up again at the hospital and apologizes to Trish. But it's too late. Trish already called her social worker and said the whole thing is off as far as going with the McCallisters. Trish wishes Kitty luck, and walks off, while we practically feel her heart breaking.