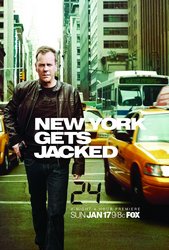 TV Info
---
Episode Premiere
January 17, 2010

Distributor
Fox TV

Genre
Action, Crime, Drama, Thriller

Show Period
2001 - 2010

Production Company
Imagine Ent., Fox TV, Real Time


Cast and Crew
---
Director
Brad Turner
Screenwriter
Howard Gordon, Evan Katz
Main Cast
Additional Cast
Elisha Cuthbert as Kimberly 'Kim' Bauer
Paul Wesley as Stephen
Claire Geare
Bob Gunton
Akbar Kurtha
Necar Zadegan
Nazneen Contractor
Jennifer Westfeldt
Doug Hutchinson
Jay Thames
Cliff M. Simon
Stefan Kapicic
Jaime Gomez
Benito Martinez
Synopsis
---
Manhattan. Ex-con Victor Aruz enters a tenement, observed by a Russian spotter who is reporting via Bluetooth on Victor's whereabouts. Victor finds his colleague Manny dead in the shower, a bullet hole in his forehead. He pulls out a gun and calls a woman who is surrounded by NYPD detectives. He asks for Mauricio. The woman, distraught, says he's dead, killed the same way. Who did this? Victor's already hung up, alert and avoiding the windows. And indeed, there's a Russian sniper on the roof, waiting for him. Victor slips into the alley, where he steals a car. The sniper spots him and manages to shoot him in the shoulder. Victor gets away, but the spotter gets the license plate and calls the police to report the car as stolen.
Jack awakens in his apartment, a little girl on his lap - his granddaughter, Teri. She calls him Jack, and he reminds her to call him grandpa. She asks him to switch the channel on the TV to a better cartoon. As he flips channels, he gets distracted by a news report about mideast peace negotiations on which President Taylor's legacy may rest. Teri asks again for a cartoon, and Jack, smiling and apparently content, complies. Kim calls; she and her husband Stephen are going to be late getting home due to traffic around the UN building caused by security for the negotiations. They each say that Teri reminds them of each other. After the call, Kim is worried. She asked Jack about moving to L.A. the night they arrived and he hasn't said a word on the subject since.
At the UN, President Taylor and Ethan Kanin sit opposite Omar Hassan, President of the Islamic Republic of Kamistan, and his younger brother, Kamistanian Foreign Minister Farhad Hassan. Hassan will agree to foreswear the pursuit of nuclear missiles, subject to permanent inspection, but an impasse is reached when Taylor insists on American inspectors rather than an international team. Farhad is angered, but Hassan calms him. Taylor wants this issue resolved before the press conference, which is in less than an hour. They adjourn, and Kanin is shocked when Taylor says to find a way to give Hassan what he wants. Hassan is a once-in-a-lifetime leader. He's already suspended support for terrorist organizations and privately advocates for a two-state solution. He can't reasonably stick his neck out much farther.