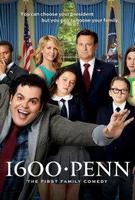 TV Info
---
Episode Premiere
March 14, 2013

Distributor
NBC

Genre
Comedy

Show Period
2012 - 2013

Production Company
20th Century Fox Television


Cast and Crew
---
Director
Jason Winer
Screenwriter
Dan Hernandez, Benji Samit
Main Cast
Additional Cast
Synopsis
---
Emily finds Skip in the White House Rose Garden, clipping flowers. He explains he's got a second-chance date with Stacey Kim. He plans to shower her everywhere with rose petals. Emily is dubious.
In the kitchen, Xander challenges his dad to a game of Risk. Becca arrives with DB, fresh off a visit to the National Gallery. She recommends against the Risk game, noting how emotional the President gets. Skip bursts in and asks his dad if he can pull some strings to get a hot air balloon rented on short notice; he needs to really wow Stacey. Emily pulls Skip aside and coaches him to scale back just a bit; they practice some role playing. Emily counsels Skip not to open the date by saying "I love you."
Becca and DB are planning to paint what will be the baby's room. Inspired by their trip to the National Gallery, Becca's got the perfect motif: Marie Curie peering through a microscope. DB would prefer a pickup truck with a teddy bear behind the wheel. Their worlds collide yet again.
Marigold joins the Risk game. Her presence distracts the President from Xander's underlying strategy - and quickly Dale has fallen behind. Afraid of losing to his son for the first time ever, he heads to the Situation Room for a consultation with his generals. They pull out all the stops, digging through long-dormant planning scenarios involving attacks on Australia. The press corps overhears, wondering if the world's balance of power has been turned upside down.
Skip takes Stacey to a fancy restaurant and tries to remember Emily's advice to avoid asking about politics and past lovers. But it's still quite awkward. Emily watches the proceedings via binoculars from across the street. She checks in with Skip's Secret Service guard who tells Emily the date's not going well. Emily has the bodyguard intentionally spill a drink on Stacey to distract her. When she leaves the table, Skip puts the Secret Service earpiece in his ear. A la Cyrano de Bergerac, Emily is now going to tell Skip what to say to charm Stacey.
At his generals' recommendation, the President forges an alliance with Marigold and beats Xander back from Australia. But before long, Marigold grows tired of playing and quits the game. Xander steps up his attacks and soon has his dad at the brink of defeat. The President plays the "it's bedtime" card, explaining that they can pick the game back up after he returns for his weeklong trip to the Balkans. Xander's furious at his father's craven attempt to avoid defeat. Later Dale finds Xander in his bedroom and apologizes for truncating their game. He puts the game board on Xander's bed and lets him roll his way to victory. It's a coming of age moment for Xander, but one he's more than comfortable with.
Guided by his stepmom, Skip seems to be making headway on the date. But when Stacey mentions loving her recent visit to the National Gallery and Skips follows up by saying he loved it too, things start to slide. Stacey asks him about his favorite parts of the exhibition. Listening in and scrambling for worthy responses, Emily calls Becca to get some talking points. Skip parrots them back, but accidentally also repeats Emily's heated discussion with Becca. Soon enough he's busted. Emily swoops in at their table looking to get things back on track, but it's all too much for Stacey, who walks out. Skip fumes at his stepmom for derailing his original plan to just be his usual over-the-top self.
DB wants to paint his Uncle Randy and Iron Man on the baby's wall, but Becca shoots it down. Defiant, he begins painting it anyway. The tension mounts until they're soon painting over each other's creations - and each other. It's a bona fide fight, but it ends in their making out. Finally, they agree to compromise: a mural of Marie Curie riding a microscope over a rainbow into Iron Man's headquarters.
Emily feels terrible and tracks down Stacey at home. Stacey comes to her apartment window and tells Emily that she agrees Skip is a nice guy, but he's just too strange. Emily begs her to give him another chance. But before she can finish her plea, Skip comes around the corner, carrying balloons filled with rose petals and singing "Fever" accompanied by an accordionist. It's a perfect opportunity for Stacey to accept Skip for his weird self.