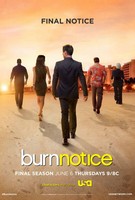 TV Info
---
Category
TV Series
Genre
Drama, Comedy, Thriller
Seasons
7
Production Co.
Fuse Entertainment, Fox TV
Distributor
USA Network
Official Site
click here

The Story
---
Spies don't get fired. They get BURNED...
This summer, USA Network presents the sixth season of Burn Notice, a sexy, action-packed original series starring Jeffrey Donovan as Michael Westen, a formerly blacklisted spy. Now that he's defeated the group of people that burned him, Michael continues to piece his life back together, while watching out for anyone that still has him in their crosshairs. He continues to use his unique skills and training to help people in desperate situations.
Burn Notice also stars Gabrielle Anwar as Fiona, a beautiful ex-IRA operative who happens to be Westen's girlfriend. Bruce Campbell stars as Sam, a washed up Navy SEAL who's an expert in tactical analysis, cutting through red tape, and finding the quickest route to a cold mojito. Coby Bell stars as Jesse, a fast-talking, former counter-intelligence agent who gave up his old life to embrace Michael Westen's brand of helping people. Also starring, is Emmy Award-winner Sharon Gless as Madeline, Michael's mother, the chain-smoking, voice of reason in Michael's chaotic life.
The Stills
---