News
>
Movie News
May 23, 2007 06:24:52 GMT
Adopting the strategy made by Sony toward its "", Warner Bros. Pictures has also chosen the city of Tokyo, Japan as its destination in marking the world premiere of "" on June 28.

A spokeswoman for the studio in Tokyo has even claimed that star would head for the city to attend the event, which is scheduled ahead of the movie's London showing on July 3.

News
>
Celebrity Gossip
May 23, 2007 06:17:12 GMT
and wife Kirsten Heder welcome a new addition to their clan. The "" star has become a father for the first time as Kirsten gave birth to a baby girl.

The funnyman's publicist confirmed the birth to People on Tuesday May 22nd, saying the newly born, named Evan Jane Heder, is "safe and sound and healthy." Other details, including the date of birth, were not given.

News
>
Music News
May 23, 2007 06:05:01 GMT
goes international for the music video of "Dance Tonight". The song that is made the first single from upcoming release "" will premiere worldwide on YouTube on May 23 at 12 noon (UK time).

The video will be displayed and promoted through the 'Director Videos' slots, which is the most accessed feature in the homepage. In the video that presents the work of "" director Michel Gondry and actress , mandolin plays a huge part. Portman appears as a futurist electronic ghost that reacts to the sound of the mandolin.

News
>
Celebrity Gossip
May 23, 2007 05:01:00 GMT
was left "devastated," again, that her close one plans to sell her story to public. First it was her relative that sold her secrets to a tabloid, and just now the talk show host was stunned as she learnt that her father is planning to write a book about her.

To make matter worse, Oprah learned about the memoir not from her dad, Vernon Winfrey, but from a gossip column. She testified that she laughed when one of her assistants told her that New York's Daily News was calling to ask about a book her father was writing. "I said, 'That's impossible. I can assure them it's not true,'" she said.

News
>
Movie News
May 23, 2007 05:00:08 GMT
Keeps working on serious roles, reportedly has given her agreement to topline eco drama "" that Deepa Mehta is set to direct for Baldwin Entertainment Group.

Inspired by a true life account of an American environmentalist named Julia Hill, the picture will depict the story of the woman, to be played by Weisz, when she came up to a resolution to live in a 1000-year-old redwood tree for 738 days in order to prevent loggers from cutting it down. Hill ultimately forced the lumber company to not only save the ancient tree, which she called "Luna", but also all trees in her area.

News
>
Movie News
May 23, 2007 04:40:34 GMT
The reins apparently are no longer hold by Peter Webber. Variety has brought in quite surprising news telling Robert Rodriguez, fresh from "", is coming onboard to take helming duties on "", which Webber was supposed to direct following reports on him being hired to perform the task back in February.

A remake of the 1968 sci-fi adventure of the same title starring as the titular character, the project is said to present a different concept from the original in depicting the heroine, putting her as a modern woman surviving in a futuristic world through her intelligence, fighting skills, and sexuality instead.

News
>
Celebrity Gossip
May 23, 2007 04:18:36 GMT
is free. The rapper was pleaded not guilty Tuesday May 22nd to two drunken driving-related charges stemmed from last month accident during which she crashed her Maserati into a cement divider in Hollywood Blvd.

The Grammy-winning rapper was arrested April 26th on suspicion of DUI after she crashed her Maserati into a divider on Hollywood Boulevard at about 2:40 a.m. She had been formally charged with driving under the influence and driving with a .08 blood alcohol level or higher.

News
>
Movie News
May 23, 2007 04:03:45 GMT
Looks like Allen and Albert Hughes will have something else in marking their return to the directing field instead of "", which the two have already been assigned to helm together since last November.

Variety has learned that the brothers are expected to do first a post-apocalyptic drama entitled "Book of Eli" that Warner Bros. Pictures is set to develop under its banner. The pair last performed helming duties on the 2001 thriller "From Hell", made based on the graphic novel of the same name by writer Alan Moore and artist Eddie Campbell.

News
>
Celebrity Gossip
May 23, 2007 03:48:17 GMT
makes media headlines again. The reality TV star and socialite was reported to have checked into rehab for treatment of an eating disorder and substance abuse.

Per media reports, it is claimed that Nicole checked into the Beau Monde Treatment Center in Corona Del Mar, California on May 11th to deal with anorexia and an addiction to pills. She reportedly weighing in at 83 pounds.

News
>
Movie News
May 23, 2007 03:42:42 GMT
Supporting tidbit made by LatinoReview.com earlier this month about the cast addition for "", Variety has revealed that is indeed joining to star in the project, Bryan Singer's WWII thriller set up at United Artists.

Based on true story, the picture centers on real-life Nazi officer Claus Schenk Graf von Stauffenberg who, along with several others, carried out the famous assassination attempt on Hitler in July 1944. Branagh is said to portray a German general who mentors Cruise's character and hatches the military coup plan.

News
>
Celebrity Gossip
May 23, 2007 03:03:48 GMT
The split already over. In the wake of their shocking split, and were spotted together again not long after the break up rumors made their way among people.

Mayer, a rock singer, was spotted leaving the pop singer's New York hotel early Monday morning May 21st. A guest who spotted Mayer leaving Simpson's suite at the Soho Grand tells In Touch Weekly magazine, "He was looking really happy. He couldn't stop smiling."

News
>
Celebrity Gossip
May 23, 2007 02:36:33 GMT
Talking about bad luck, experienced it when she broke her nose over the weekend, just days before the season finale of "American Idol."

The judge was trying to avoid stepping on her pet chihuahua Saturday May 19th at home and fell, breaking her nose and toe, while tore her cartilage as well. Her publicist David Brokaw confirmed the incident, saying "She went to the doctor and she did break her nose, but she's moving on and doing great. She looks terrific. If you didn't know she broke her nose, you'd never guess anything happened to her."

News
>
Celebrity Gossip
May 23, 2007 02:24:21 GMT
Baby twins are on the way for Hollywood couple and Kimberly Buffington.

Lisa Kasteler, a publicist for Quaid, confirmed Monday May 21st the couple, married in July 2004, is expecting twins later this year by a surrogate mother.

News
>
Celebrity Gossip
May 23, 2007 02:01:14 GMT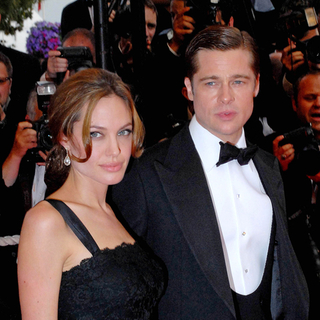 Fresh from her Cannes appearance with partner , has revealed that she wants to take a break from acting to focus on her family.

The movie beauty said Tuesday May 22nd while promoting "" at the Cannes Film Festival, "I'm working this summer. I'm in Prague for a few months, then I take two months off, then I work for two months. And then I take a year off."

News
>
Movie News
May 22, 2007 11:13:23 GMT
Seems to have no space to take a break in writing scripts, Christopher McQuarrie has directly moved from his stint in "" to pen for a WWI drama entitled "", Variety has reported.

Set up as a co-production between 2929 Productions and Spitfire Pictures, the battlefield drama revolves around three characters consisting of an American ambulance driver living in France, a British soldier wrongly accused of cowardice, and a German soldier mired in the trenches.