News
>
Celebrity Gossip
May 17, 2007 10:22:56 GMT
insists she and fiance are still having lots of sex. The 'Desperate Housewives' star was reported to have issued a sex ban on the basketball player until their wedding night, but has revealed it was a joke.
News
>
Celebrity Gossip
May 17, 2007 10:13:15 GMT
and 's marriage is allegedly under pressure because of their failure to have a baby. The 44-year-old actress already has three daughters with ex-husband , but she and 29-year-old Ashton are keen to have a child of their own.
News
>
Celebrity Gossip
May 17, 2007 10:10:25 GMT
's private diary has been made public - revealing her most private thoughts on sex, men, motherhood and her mother. Excerpts from the late Playboy Playmate's journal have been released detailing Anna Nicole's personal thoughts on her life from 1991 to 1992.
News
>
Music News
May 17, 2007 10:06:26 GMT
's first seven London concerts have sold out in minutes. Fans of the diminutive singer snapped up all the tickets for the star's opening shows at The 02 arena in just 20 minutes. Another eight shows at the same venue have now been announced as part of Prince's 21-date London extravaganza.
News
>
Music News
May 17, 2007 10:00:25 GMT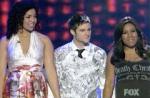 It's really surprising that Melinda Doolittle, 29, was eliminated Wednesday night and left the Idols next week finale to Jordin Sparks and Blake Lewis.
News
>
Movie News
May 17, 2007 03:44:51 GMT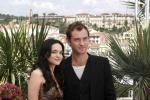 The celebration for world's most prestigious film festival is on now as the 60th annual Cannes Film Festival began to roll Wednesday, May 16, 2007 with Wong Kar-wai's "", a tale of a girl's heartbroken travels across the U.S..