News
>
Movie News
October 04, 2006 07:57:34 GMT
to make acting debut? Why not. The singer reportedly is vying for the role of pin-up icon Jeanne Carmen in a new biopic.

Rumor has it that Aguilera has been added to the long list of hopefuls hoping to portray the role of Carmen.

News
>
Movie News
October 04, 2006 07:46:57 GMT
It's now Paramount Vantage's turn to generate creepiness among moviegoers. The company is about to develop a horror feature entitled "" following its successful attempt to gain the rights to the film's script from Dan Kay.

Based on the China Mieville's short story which concerns about the psychological phenomenon called pareidolia, pic tells the story of a father who tries to find his missing daughter after she uncovered demonic force only she can see.

News
>
Celebrity Gossip
October 04, 2006 07:40:08 GMT
Rumor has it that has asked famous photographer Annie Leibovitz to snap baby Sutton Pierce pictures. What prompted the pop superstar to do so?

It is all Leibovitz's 22-page family album of , fiancee and their daughter Suri. Upon seeing their photos in Vanity Fair magazine last month, Spears immediately approached Leibovitz to photograph her new baby.

News
>
Movie News
October 04, 2006 06:57:16 GMT
The game sadly has bitter consequence this time. The Hollywood Reporter has shockingly revealed that Focus Features' "A Little Game Without Consequence" won't see the reunion between and as the pair has decided to quit the project along with director Gabriele Muccino.

Principal reason behind the departure is said to be because of problems over the script that has gone in a different direction than the twosome expected when they became involved. Both Carrey and Diaz initially were slated to begin filming the picture this month in New York, but with this withdrawal, all production plans are automatically scrapped.

News
>
Celebrity Gossip
October 04, 2006 06:50:42 GMT
They have kept their romance in low profile and just now on and are engaged. A representative for the happy couple exclusively confirmed their engagement to People.

There have yet more details on the pair engagement except that this will be the first marriage for both.

News
>
Music News
October 04, 2006 05:09:20 GMT
Irish rock band would never stop creating music work. Fresh from their collaboration with on a cover version of The Skids' "The Saints Are Coming", they will in the near future release a definitive greatest hits compilation.

It has just been confirmed by the band itself that they will release "" by November 17th. The set, according to the band's Web site (http://www.u2.com), will feature U2's Hurricane Katrina charity collaboration with Green Day, "The Saints Are Coming," as well as a brand new song, plus "16 of the band's best-known songs".

News
>
Music News
October 04, 2006 04:27:42 GMT
Prior to the release of their new album, "" which is due to hit stores on Halloween 2006, Sacramento rockers will embark on a 22-date U.S. tour, kicked off on October 26th in Oklahoma City.

The jaunt, held to support the band's new effort, will see a performance from rock band Deadsy who's been booked as the trek's opener.

News
>
Music News
October 04, 2006 03:48:18 GMT
Two-time Academy Award-winning singer returns to the stage on Wednesday, launching her first proper concert tour in over a decade, and the biggest of her career. This is the first time ever the songbird going back on the road after declaring she was giving up live performances six years ago.

Speaking on her comeback to music scene, Streisand said it is her desire to raise money for her favorite charities that encourages her to embark on the tour. "That's the main reason I'm going back on the road now," she told 's O magazine. And hence the money will be distributed through her own philanthropic foundation.

News
>
Celebrity Gossip
October 04, 2006 03:23:34 GMT
This just in, pregnant. The "Beverly Hills, 90210" star is expecting her first child with her husband of almost five months, actor .

There has yet any official comment from the actress, but she was there with hubby spotted having lunch with friends on Monday October 2nd at Dimmi Bar & Trattoria on Cumberland Street. "It seemed like they were breaking baby news to their friends," said an onlooker.

News
>
Movie News
October 04, 2006 02:50:23 GMT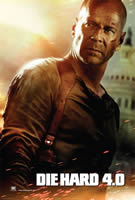 The bad guy is finally found. According to JewReview.net, Jeffrey Wright has been chosen to play the villain in "", the fourth installment of "Die Hard" franchise, which currently is in production in Baltimore.

Being so, Wright thereby is the latest actor to join the project after and , who finally is positive to star in. The story this time sees our hero John McClane, played by , in his effort to stop a techno-terrorist from shutting down the nation's computer systems on the Fourth of July.

News
>
Music News
October 04, 2006 02:45:00 GMT
is back and about to give fans their newest music album. The new effort, titled "", was created from a past suggestion by the late and Cirque du Soleil founder Guy Laliberté.

Producer Sir George Martin and his son, Giles Martin were the two persons working on the set after getting permission from , , 's widow , and George Harrison's widow Olivia Harrison.

News
>
Movie News
October 04, 2006 02:20:23 GMT
The nice collaboration continues. Variety has revealed that and director Craig Brewer have both agreed to once again join forces to work on another project together after the success of "."

The two will develop a biographical feature of legendary singer Charley Pride which is not yet titled. Howard is said to be billed as the country icon and will sing his songs and play guitar for the project as did in "." Meanwhile, the film itself will be made with focusing on Pride's relationship with his wife, Rozene, whom he met when he was playing for the Memphis Red Sox.

News
>
Celebrity Gossip
October 04, 2006 02:19:11 GMT
Hip-hop star is giving hand at writing and will have his first novel ever released on October 17th later this year.

The novel, a hardcover book titled "Love Don't Live Here No More", was written with award-winning urban theater czar David E. Talbert and will be released via Simon & Schuster's Atria imprint.

News
>
Movie News
October 04, 2006 02:08:04 GMT
An inspiring sports movie is about to come out from 20th Century Fox. The giant company is reported to have secured rights to make "The Blind Side: Evolution of a Game" based on Michael Lewis' novel of the same title.

With this acquisition, "Blind" then becomes the next Lewis' book-based film project after "Moneyball: The Art of Winning an Unfair Game", which is adapted from his bestselling baseball novel. The picture currently is under development at Columbia with Mike De Luca producing.