News
>
Celebrity Gossip
May 25, 2006 09:56:12 GMT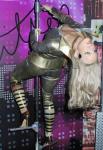 Madame Tussauds in New York has on Thursday May 25th, 2006 unveiled its latest wax creation of .
News
>
Celebrity Gossip
May 25, 2006 09:35:10 GMT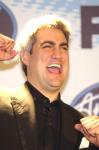 As the fifth season of Fox's hugely successful reality program "American Idol" eventually came to its finale on May 24, it is the gray-haired soul singer who at last was named the show's winner after gaining the highest point of votes of million viewers all around the States.
News
>
Celebrity Gossip
May 25, 2006 08:52:11 GMT
Returning from their two-week honeymoon in Fiji, newlyweds and seems to have fixed on the same intention to start a family as they both like the idea of having a baby as soon as possible.
News
>
Celebrity Gossip
May 25, 2006 07:50:55 GMT
This year's Tony Awards sure will be a shining star-studded affair for the organizers for the event have revealed their plan to feature 60 celebrity hosts to represent each year of the theatre world's prize-giving ceremony as it celebrates its 60th anniversary.
News
>
Celebrity Gossip
May 25, 2006 06:07:41 GMT
Following the debate whether was really forced to leave Fox popular series of "The O.C" or not, the show creator, Josh Schwartz, finally gave his remark concerning the matter. Concluded to kill Barton's character, Marissa Cooper, in the series' season finale aired May 18, the man firmly claimed that the elimination was purely a creative decision and had nothing to do with the actress.