News
>
Movie News
May 02, 2006 08:59:27 GMT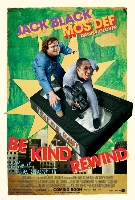 The next character that about to display is a kind of eccentric. The actor reportedly has signed on to star in the upcoming drama comedy "".

Jack is slated to portray a man who becomes accidentally magnetized while trying to sabotage a power plant. His magnetic field erases all the tapes in the video store where his best friend works. To save the store, the duo re-enact and re-film every movie that its single loyal customer, an elderly woman, rents.

News
>
Celebrity Gossip
May 02, 2006 08:31:45 GMT
On the same day fellow basketball player welcomed his second child, also gladly celebrated a new addition to his family. It also is a daughter for him and wife Shaunie Nelson.

The baby girl, born Monday May 1st, 2006 at 4:57 a.m. in Miami, weighed 8 lbs., 1 oz., and was 21 1/2 inches long. And "Shaq is thrilled," a source said.

News
>
Celebrity Gossip
May 02, 2006 08:17:10 GMT
Monday May 1st, 2006 was a happy day for and wife Vanessa Cornejo Urbieta Laine as the couple welcomed their second child together. This time it's a baby girl for the parents.

Named Gianna Maria-Onore Bryant, the infant was born at 2:03 a.m. Monday, weighing 6 lbs., 7 oz and is 18 1/2 inches long.

News
>
Music News
May 02, 2006 07:47:20 GMT
Citing poor health, Fats Domino unfortunately has to cancel an autograph session, which supposed to be held Monday May 1st, 2006 to raise money for a music charity.

Speaking on the singer's condition, Adam Shipley, music director for Tipitina's nightclub said "It's not any major ailment, but he wanted to rest up for Sunday. He's not feeling well, and his first priority is getting ready for Jazz Fest."

News
>
Music News
May 02, 2006 07:21:42 GMT
Music act will in the near future greet their many fans, especially those in North America. The band has just announced dates for their upcoming North American summer tour, which reportedly will include two-show theater stints in North American nine cities.

The set will first of all open with a June 1-2 stand just outside of Philadelphia at the Tower Theatre and conclude with a June 29-30 showing at Los Angeles' Greek Theatre. Moreover, the trek also will include multiple-night visits to Chicago, Montreal and Toronto.

News
>
Celebrity Gossip
May 02, 2006 06:58:34 GMT
The dress worn by actress at the 2006 Oscars was finally auctioned online Monday May 1st, 2006 for more than $7,000 on auction website eBay. All proceeds from the auction will be donated to the charity Oxfam.

The auction of the Vera Wang designed gown is reported to be part of Oxfam's 20 million pound ($36.4 million) appeal for 11 million East Africans facing starvation from a drought.

News
>
Celebrity Gossip
May 02, 2006 06:28:33 GMT
Hollywood actress is taking another new role. This time the beauty is set to host the 2006 MTV Movie Awards.

Aside from becoming the event's host, Alba also is nominated for three awards, Sexiest Performance for "" and Best Hero and Best On-Screen Team with , and for "."

News
>
Movie News
May 02, 2006 05:56:49 GMT
Signed on to star in "Tonight, He comes" has made it possible for to reunite with director Gabriele Muccino.

Of action drama genre, "Tonight, He Comes" centers on a tortured superhero who crash-lands in Sheepshead Bay, Brooklyn, and tries to transform himself by romancing an alluring housewife, causing chaos in the city.

News
>
Celebrity Gossip
May 02, 2006 04:51:33 GMT
The long legal battle has at last resulted in something. The US Supreme Court ruled on Monday April 1st, 2006 that one-time stripper and Playboy Playmate could pursue part of her late husband's, J. Howard Marshall II, oil fortune.

As for you to notice, Smith who's tied the knot with Marshall in 1994, once claimed that her husband promised her half of his estate, estimated to be worth more than $1.6 billion at the time of his death in 1995. Despite such fact, Howard's son, E. Pierce Marshall, insisted that he was his father's sole heir and that Smith was only entitled to $6 million in gifts that she received in 1994.

News
>
Music News
May 02, 2006 04:22:40 GMT
The collaboration between and finally hands her a new album. The set called "Loose" will be released June 20.

Spend most of their time together to get the album completed, Nelly enjoys working with Justin very much. She says, "He has his own unique take on melody, and he has his own unique take on lyrics -- and he's specific about lyrics. We're writing the song, I gave him a melody, he gave me a lyric, back and forth, back and forth, and he was really specific about how he wanted them to sound."

News
>
Movie News
May 02, 2006 03:55:31 GMT
"", the biopic, nabs the top honor at the 10th annual Prism Awards held Thursday April 29th, 2006 at the Beverly Hills Hotel. The drama movie wins an award for the category of Feature Film Wide Release, thanks to its accurate portrayals of drug, alcohol and tobacco use and addiction within entertainment programming.

Some other winners include Kelly Rowan from "The O.C." who brings home the honor for Performance in a Drama Series Episode for Television category and who gets the Performance in a Drama Multi-Episode Storyline for Television honor for her portrayal in "Summerland".

News
>
Movie News
May 02, 2006 03:33:24 GMT
and have both agreed to walk on "". The twosome has agreed to star in the upcoming action adventure flick, which is going to direct.

The story will portray Christopher McCandless, who graduated from college in 1992, abandoned his possessions and hitchhiked to Alaska to live in the wilderness and return to nature. He died four months later in an abandoned bus at a remote campsite.

News
>
Celebrity Gossip
May 02, 2006 03:15:32 GMT
"I gave him so much space... I'm choking myself with it. I'm just learning very recently what my mistakes were. And unfortunately it's a little too late. I learned too late." So said expressing her feeling on her divorce to husband Chris Howard.

Has given up on saving her marriage, however, won't keep the actress saddened though it has yet make her ready to embark on another romance.