News
>
Movie News
February 22, 2006 08:52:17 GMT
Famous movie star is set to star in the upcoming drama romance "." Besides starring in, Rock, along with longtime collaborator , also wrote the screenplay as well.

An adaptation of Eric Rohmer's 1972 film, "I Think I Love My Wife" shows the life of a happily married office worker who daydreams about other women until he encounters the mistress of an old friend who tries to seduce him.

News
>
Celebrity Gossip
February 22, 2006 08:20:48 GMT
Being five months pregnant certainly doesn't stop to carry out a stunning and stylish look. In fact, the starlet has been crowned Most Stylish Actress at the Elle Style Awards held in London last night. In the meantime, chosen as the Most Stylish Actor is .

June Sarpong, in addition, scooping Levi's Hot Look prize, while is named Music Star. Bring home TV Star Male award is with picks the Female one. Chosen to bring home the TV Show award is "The OC".

News
>
Movie News
February 22, 2006 07:51:39 GMT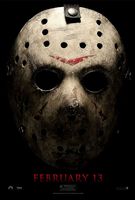 What's new from movie industry is that of Jonathan Liebesman's final negotiations to direct the remake of horror classic "" for New Line Cinema.

Written by Mark Wheaton, the film will be shot in Crystal Lake just like the first movie. As of the story, "Friday the 13th" remake centered on the origins of the Jason Voorhees character. The movie reportedly is set for a 2007 release date.

News
>
Celebrity Gossip
February 22, 2006 07:37:02 GMT
Jason Kaminsky, UCLA campus events commissioner, released an announcement Tuesday Feb 21st, 2006 mentioned that the institution is about to honor with UCLA's Spencer Tracy Award, which recognizes outstanding screen performances and professional achievement.

Speaking on that matter Kaminsky said "It was said that Spencer Tracy's natural style set him apart from actors of his time and set performance standards for future generations. We think that the same can be said for the acting of Mr. Freeman." And thus, an award ceremony has been scheduled for March 7.

News
>
Movie News
February 22, 2006 07:22:29 GMT
Universal Pictures has acquired the screen rights to James Siegel's upcoming novel "". The studio, moreover, has tapped Lorenzo di Bonaventura to produce.

The story of "Deceit," which is of drama genre, involves a cover-up in which the facts of a nefarious deed are given to the one person -- a journalist and notorious liar -- who is least likely to be believed.

News
>
Music News
February 22, 2006 06:55:20 GMT
Their two shows in the weekend of February 18 at Milan's Filaforum went very success. About which the band, 's drummer Andrew Fletcher commented "We're quite excited, because the audience went absolutely bananas."

Wanting more on their plate, the music group has had the shows recorded for a live DVD that is expected for a September release date. "We did Paris (for the last DVD), and we thought we'd do Milan since we work there a lot, and it worked out really well," Fletcher continued.

News
>
Movie News
February 22, 2006 06:44:30 GMT
It is a double duty for Nick Cassavetes as he's been tapped to write and direct the upcoming "Bombing Harvey."

The project is a fact-based drama about a millionaire who tried to cover his gambling losses by planting a bomb and extorting $3 million from a Lake Tahoe casino.

News
>
Movie News
February 22, 2006 06:26:11 GMT
Tom McCarthy, the writer-director of "The Station Agent", reportedly will write the comedy romance "" for Paramount Pictures.

Meanwhile, Kevin Misher is giving hand at producing. "Glory Days" tells the story of a woman who attends her 10-year college reunion only to experience love and heartbreak as she renews old friendships and a past romance.

News
>
Movie News
February 22, 2006 06:01:03 GMT
The angry fans of 007 agent James Bond apparently are planning to boycott the highly anticipated "" due to the fact that British actor is replacing .

Launched a Web site, http://www.craignotbond.com as a protest, there they wrote "EON Productions angered fans around the world when they fired Pierce Brosnan at the height of his popularity as Bond. To add insult to injury, EON cast a short, blond, odd-looking Daniel Craig in the role of Bond."

News
>
Music News
February 22, 2006 04:59:44 GMT
Three songs, all of which supposed to be featured on the highly anticipated new album "Chinese Democracy," have been leaked online. Fans of the music group came to a new hope for the band's come back to music scene as "Better", "There Was A Time", and "IRS" leaked online Wednesday.

"Chinese Democracy," actually is the result of band frontman 's a decade hardwork, which fans have been waiting so long for a release. While Rose's manager, Merck Mercuriadis, ordered the Internet sites to remove the links, fans on the other hand sent one of the leaked tracks to radio stations.

News
>
Celebrity Gossip
February 22, 2006 04:31:20 GMT
Just a month after she announced her split from , Oscar-winning actress reportedly is back with him.

The rumors sparked soon after they were spotted out and about together in Malibu, California. Swank, even more, was seen wearing her wedding ring.

News
>
Celebrity Gossip
February 22, 2006 04:16:03 GMT
Hollywood actress and country music queen have been added to the long list of Oscar presenters. They are, in fact, the latest two additions to be announced by the Academy.

As of Parton, she is slated to perform her Academy Award-nominated original song "Travelin' Thru" from the movie "". Also tapped to perform at the March 5 Oscars ceremony in Hollywood is Kathleen York who will sing "In the Deep" from the nominated movie film "."

News
>
Music News
February 22, 2006 03:43:41 GMT
and , the two great music performers were joining together at benefit held Monday night Feb 21st to raise money for Harrah's Entertainment Inc. workers affected by last year's Gulf Coast hurricanes. Took to the stage at Caesars Palace in Las Vegas, the two singers sang duets of "Sorry" and "Saturday Night".

Helped to raise $2.1 million for some 8,000 casino workers in the Gulf Coast region, they were joined by fellow famous star . Performed in front of 4,100 people, Elton John says he's just glad they could "do a little something for those people's lives that will never be the same again for many, many years."

News
>
Celebrity Gossip
February 22, 2006 03:19:18 GMT
Troubled supermodel has had a brand new life. She has gone from rehab clinic to Britain's Most Stylish Woman. That's according to recent poll conducted by Grazia magazine. Involved about 5000 readers, Moss is voted the 1st Britain's Most Stylish Woman of the year.

Put in 2nd is British actress , followed closely behind by , Princess Diana and all of whom seat at No. 3 to 5 in a row. Sixties supermodel Twiggy is voted the 6th, while , Victoria Beckham, and are all rounding out the Top 10.