News
>
Movie News
September 28, 2005 07:34:04 GMT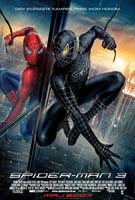 Hi, we bring you fresh from the oven news. It's about forthcoming movie "." Do you know that and will star in? Well, at least that what has revealed during an interview.

It is suspected that Church will play Sandman and Grace will play Venom. Dunst herself is set to play Mary Jane Watson.

News
>
Music News
September 28, 2005 07:07:54 GMT
revealed her 'confessions.' The album, fully titled "Confessions on a Dancefloor," will hit store shelves November 15 via Warner Bros, producer Stuart Price told Billboard. Further he said that the 12-track set, recorded in his home studio in London, is mixed continuously.

"Basically, it's Madonna saying, 'This is who I am. This is what I do. Take it or leave it,"' Price confirmed about what the album means to Madonna. Aside, the album's first single "Hung Up," is currently being featured in ads for the forthcoming Motorola/iTunes phone.

News
>
Music News
September 28, 2005 06:51:52 GMT
Even death could not stop Biggie Smalls to keep creating sensation. The Rap legend, best known as who died in a March 1997 shooting, continues to live on with the forthcoming release of a new single, "Hold Ya Hand." It is a duet of him with reggae legend that will also appear on "The Notorious B.I.G. Duets: The Final Chapter," due November 29 via Bad Boy.

"Hold Ya Hand," the first track to be released from the album, includes a sample of Marley's "Johnny Was." The rest of the album will include participation from "some of music's greatest vocalists and MCs" and "the industry's top producers," so said Bad Boy. The project will also include a DVD with previously unreleased Biggie performance footage, interviews and music videos.

News
>
Music News
September 28, 2005 06:29:03 GMT
In support of the October 25th release of their new live DualDisc album, "Rockin' the Joint," Rock legends will embark on a tour this fall. The North American tour will be begun October 30-November 1 in Uncasville, Conn. Retro-rocker has been tapped as the opening slot.

Here are Aerosmith/Lenny Kravitz tour dates: 10/30: Uncasville, CT, Mohegan Sun; 11/1: Uncasville, CT, Mohegan Sun; 11/3: Washington, DC, MCI Arena; 11/8: Uniondale, NY, Nassau Coliseum; 11/10: East Rutherford, NJ, Continental Airlines Arena; 11/12: Boston, TD Banknorth Garden; 11/16: Ottawa, Corel Centre; 11/18: Toronto, Air Canada Centre; 11/23: Philadelphia, Wachovia Center; 12/2: Atlantic City, NJ, Borgata; and 12/8: Winnipeg, MTS Center.

News
>
Music News
September 28, 2005 06:14:24 GMT
Keep on fire and energized, Scottish band is again touring the United States, bringing "Do You Want To" from their sophomore album, "You Could Have It So Much Better," which is due out Oct. 4. Also they will play two new songs "Walk Away" and "Outsiders," which both have a slower tempo than their other songs.

Speaking about the tour, frontman Alex Kapranos said "We find ourselves in a much better position than we did last year touring because then we had only a certain amount of songs to draw upon. When we played for an hour, we had to play almost everything we knew." In the meantime, Franz Ferdinand will next hit Magna, Utah; Seattle; Portland, Ore.; Vancouver, British Columbia; San Francisco; Los Angeles; San Diego; New York and Toronto.

News
>
Celebrity Gossip
September 28, 2005 04:47:39 GMT
Following sparked reports on the marriage of prolific actress to longtime boyfriend, director/ writer Noah Baumbach, a confirmation statement outed by the groom Monday night at the New York Film Festival premiere of his newest flick, "." "I expect to be with her the rest of my life," Baumbach said briefly. The marriage, held over Labor Day weekend, is the first for both, who would not go for an immediate honeymoon due to their hectic schedules.



News
>
Celebrity Gossip
September 28, 2005 04:29:08 GMT
Be different is okay as long as it brings positive impacts to oneself and others. See sexy actress , who aside from her hectic filming schedule, is developing her own videogame, something that her other celebrity pals rarely do or involve in.

The Hollywood babe has co-created new 'X-Game sports' technology that is being launched on mobile phones in Korea. Got the great idea when she realized it wouldn't feature any violence, she hopes the unnamed videogame could represent her, telling potential movie directors the types of action films she wants to star in. Ok then good luck sist.

News
>
Movie News
September 28, 2005 04:11:24 GMT
Adding your reference of a must-see movie, Fox 2000 and Regency Enterprises have bought New York Times reporter Alex Berenson's upcoming novel "The Faithful Spy" to be produced by Red Wagon Entertainment's Doug Wick, Lucy Fisher, and Erwin Stoff. The film, described as a thriller in the vein of 1987's "No Way Out," tells about a U.S. intelligence officer who infiltrates the dark world of international terrorism.

What do you think? A really must-to-see film, isn't it?!

News
>
Movie News
September 28, 2005 03:56:11 GMT
The only film script written by late rapper has been purchased from his mother, Afeni Shakur, by the Insomnia Media Group. The company Chairman Bret Saxon and Chief Executive Officer Jeff Bowler confirmed Tuesday they will begin production next March.

Titled "," the project tells about a black teen who becomes a drug kingpin and then turns his life around. Will be a producer on the film is Afeni and the associate producer of "," Preston Holmes, while the cast has yet settled.

News
>
Movie News
September 28, 2005 03:19:57 GMT
Why and what is so special about monkey? The answer maybe various. Just watch the up coming "" and you'll probably find the answer. Or maybe not.

It is an adaptation of the 1975 novel by Edward Abbey, which Catherine Hardwicke has agreed to develop and helm for Columbia Pictures. The story concerns a motley group of environmental warriors who wage mayhem against road builders and other developers in southern Utah.

News
>
Music News
September 28, 2005 03:02:47 GMT
In celebration of the 30th anniversary of his breakthrough 1975 album "Born To Run," singer is going to release a special box set this fall. Dubbed "Born to Run 30th Anniversary Edition," the set will include two DVDs along with a newly remastered version of the album.

The first DVD will display Springsteen and the E Street Band's 1975 performance at the Hammersmith Odeon in London, a 16-song set that featured much of the album. Elsewhere, the second one will be a 90-minute documentary about the album that features fresh interviews from Springsteen, band members and others involved. Moreover, the set titled "Wings for Wheels: The Making of Born to Run," also features footage of Springsteen performing some of the songs solo with guitar or piano.

News
>
Movie News
September 28, 2005 02:40:36 GMT
Hurrah, Christmas is near. Feel the joy, spirit, and have the happiness inside your heart. Christmas tree, snow, and gift are all but none is as special as the coming of Santa Clause.

Celebrating the soon-to-come day, Walt Disney Pictures has something special to made the day even lively with their exclusive present, a new movie. It's "The Santa Clause 3."

News
>
Movie News
September 28, 2005 02:20:14 GMT
"Twist" is a must-see film. Why? Because it has an interesting story and the people behind its making have made the film an exception. Raja Gosnell is one that has signed on to direct the comedic thriller for Regency Enterprises.

Besides, there is also Mark Perez to write the screenplay; Richard Suckle and John Davis, who both will produce.

News
>
Celebrity Gossip
September 28, 2005 01:54:44 GMT
British bands and will probably becoming the big winners at the 2005 MTV Europe Music Awards after securing five nominations each. As for Coldplay, the band vying for Best Group, Best Rock, Best Song for "Speed of Sound," Best Album and Best UK and Ireland Act. Whereas, the animated band Gorillaz are up for Best Group, Best Song, Best Video for "Feel Good Inc," Best Pop, and Best UK and Ireland Act.

The 12th annual event, to be hosted by British comic , will be held Nov. 3 in Lisbon and be broadcast live on MTV in Europe and the United States. Worldwide music fanatics can vote the winners via MTV's websites, except for Best Video and Free Your Mind, which are chosen exclusively by MTV Europe viewers. Joining Coldplay to perform at the event among others are , , and the .