News
>
Celebrity Gossip
September 17, 2005 06:48:33 GMT
Former "Beverly Hills, 90210" star speaks the spell; SPLIT. It works and so she splits from husband Charlie Shanian, after just 14 months of marriage. The actress publicist confirmed Friday that Spelling and Shanian have separated after a year of marriage. What a pity.



News
>
Celebrity Gossip
September 17, 2005 06:30:43 GMT
Pop star debuted her L.A.M.B. fashion line at New York Fashion Week Friday night. Her collection showed off that night alternated between street track jackets and red-carpet gowns.

Stefani herself has already invested $1 million into the show, which was attended by , , and . The singer wants to be taken seriously and is expected to show a strong collection with her own individual style a major influence.

News
>
Celebrity Gossip
September 17, 2005 06:13:16 GMT
Rapper has had a music career, money, car, and so forth. Yet, the more he has the more he gives. Thanks God that he has such heart.

Wants to lend hand at Hurricane Katrina victims, he willingly donated his 2005 customized Bentley Continental GT, valued at over $225,000, to 's Charity Folks online auction to benefit the American Red Cross Disaster Relief Fund. The car will be up for auction until Wednesday.

News
>
Music News
September 17, 2005 05:48:50 GMT
Long time no see, is appearing with a brand new spirit. Won't left behind by other old and new music bands, the veteran rockers will back their forthcoming album, "Have a Nice Day," with a world tour that gets underway this fall in North America.

The tour reportedly will be begun in early November, and dates are stacked up through late December. In time, the band will play multiple nights at some venues in the Northeast, with two-night stands set for New York City, Philadelphia and their home state Jersey. Moreover, they will also play in Dallas; Atlanta; Seattle; Portland, OR; Milwaukee; Nashville; Houston; San Jose, CA; Los Angeles; Phoenix and Las Vegas.

News
>
Movie News
September 17, 2005 04:48:08 GMT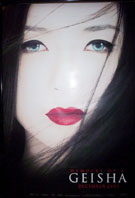 The Geisha outs from its hiding place. Come along is the Memoirs that finally open for public.

"" is based on Arthur Golden's best-selling book, which story tells of love and betrayal set against the broad and rapidly changing social canvas of 20th century Japan. Nine-year old Chiyo, a poor fisherman's daughter, is taken from her family and sold to a geisha house. From her start as a common household maid, she blossoms into one of Kyoto's most renowned geishas, surviving the envy and treachery of the competition.

News
>
Celebrity Gossip
September 17, 2005 04:23:10 GMT
Becoming an actress and U.N. goodwill ambassador are two activities that involve in such hectic and take time activities. However, the star still has time to turn her attention to model.

The tattooed actress has been chosen as the new face of luxury apparel label St. John and will also be the voice behind the company's new charity created in support of children's issues and causes. "Embodies so many qualities of what St. John represents. Strong, independent and dynamic." Richard Cohen, chief executive officer of St. John uttered on Jolie's choosing.

News
>
Celebrity Gossip
September 17, 2005 04:05:41 GMT
Won't let the rumor on his romancing his co-star spread wider, actor finally outs defense. Insisting he and Aniston are simply the best of friends, the star said "I know people would love it if we were dating. But we're not. We're just doing a movie together. The photos they try and use of us [together] are of us on set. So hopefully that rumor will go away rather quickly because that is what the situation is."

Hope the confirmation would be a satisfying answer for people questioning on their dating.

News
>
Movie News
September 17, 2005 03:10:37 GMT
"Rocket Fuel for Winners" sounds quite interesting. It is the story of self-proclaimed "King of All Pimps," Jason Itzler who owned one of New York's top escort agencies, NY Confidential, but his highflying lifestyle eventually landed him behind bars. He also fell in love with his star employee, to whom he eventually proposed marriage.

"Rocket fuel for winners" actually was the agency's motto. The rights to Itzler's story have been nabbed by Kevin Krakower and Ryan Babenzien, who are producing as well. Attached to direct the film is Wayne Wang. What do you think about that?!

News
>
Celebrity Gossip
September 17, 2005 02:54:05 GMT
Singer/actress has been sentenced to 180 days in jail for violating her probation, but will serve her time in a live-in drug treatment center. Superior Court Judge Rand Rubin said she would be spared jail time because of the headway she made in rehabilitation.

"I'm very pleased with your progress. I think this is an excellent first step on the road to recovery," Rubin told Love after studying a report on her treatment. The 41-year-old singer will not be allowed to leave the clinic except for emergencies and would be subject to random drug tests. She has to later on back to court on November 18 and extended her probation, which stems from drug and assault convictions, until March 2007.

News
>
Movie News
September 17, 2005 02:36:01 GMT
Another new horror/sci-fi indie coming soon in the theater. Stouffer Entertainment's "Hunter's Moon." It is executive produced by Mark Litwak and Jay Sedrish with Wendy Winks is co-producing. Mark Stouffer, to add, is writer, director and producer of the film.

"Hunter's Moon" tells the story of four young couples drawn to the remote dunes for off-roading in their extreme machines. But the outing turns into a night of terror when they are attacked by the Catcher, a skilled and brutal hunter of human specimens for alien science.

News
>
Movie News
September 17, 2005 02:19:27 GMT
"Aquaman" star, , has agreed to play in the adaptation of Lauren Weisberger's bestseller "." The Fox 2000 production centers on a young woman scores a job working for one of New York City's biggest magazine editors, Miranda Priestly.

Other casts include , and . Streep is set to play the main role, while Hathaway will play as her assistant. Grenier has signed on to play Nate, the love interest of Hathaway's character.