News
>
Movie News
August 20, 2005 04:57:55 GMT
The 1960's TV show "" will go the big-screen. Has been appointed to star in is Hollywood beauty . In the movie, the actress is set to play alongside . In a further report, it is claimed that Alba has decided not to return to the screen in a sequel of this year's lukewarm release "."



News
>
Movie News
August 20, 2005 04:33:37 GMT
Stone Village Pictures has acquired the remake rights to the 1955 French heist classic "Refifi," which originally directed by Jules Dassin in France. As the do so, Harold Becker has been appointed to direct, while famous actor is set to star.

"Refifi" revolves around a career thief who, upon leaving prison, discovers his wife has left him. He returns to crime, plotting a daring jewelry store heist and Al Pacino will star as the criminal mastermind.

News
>
Celebrity Gossip
August 20, 2005 04:07:47 GMT
"Be Yourself." That's maybe what Mark Feehily of boy band thinks about way he should be. Thus, he openly told The Sun newspaper: "I am gay and I'm very proud of who I am."

The singer said the time was right to let people know. "I'm not worried about how people react because I'm happy being who I am," he added. Also Mark revealed that his family and band mates were already aware of his sexuality.

News
>
Music News
August 20, 2005 03:45:59 GMT
"USA Today." Wait a minute, that's not referring to the newspaper, but the latest hit single of country star . What's wrong with that? Nothing, except it has successfully landed at No. 49 on Billboard's Hot Country Songs chart in the week ended August 14.

Despite the fact that's only a song, and not a newspaper, Jackson indeed singing about the national newspaper in the self-penned song, as evidenced by these lyrics: "...they're thinking about putting me on the cover of the USA Today, story of heartbreaking pain, picture of the loneliest man they claim, in the U.S.A. today." Anyway, with that secured position, "USA Today" has become the highest new entry on the chart.

News
>
Music News
August 20, 2005 03:29:32 GMT
Once trying to sing, Oscar-winning actor reaps success as 's "Gold Digger," which he featured in, jumped three places to No. 3 on Billboard's Hot R&B/Hip-Hop Songs chart in the week ended August 14. Meanwhile, his "Extravaganza" with West featured in, was at No. 77 on the same chart. Be the first still pop diva . Congrats Foxx and keep on fire.



News
>
Celebrity Gossip
August 20, 2005 03:11:34 GMT
Country singer has inked an exclusive multi-year agreement with Wal-Mart Stores Inc.. The agreement between both remains on told, but it reportedly will make Wal-Mart, Sam's Club and their online outlets the only places where Brooks' music will be commercially available.

Speaking about this, David Porter, vice president and divisional merchandise manager for Wal-Mart, commented "We understand the Wal-Mart customer and know that bringing them Garth Brooks exclusives in the upcoming years is something that'll excite them as much as it excites us."

News
>
Celebrity Gossip
August 20, 2005 02:41:48 GMT
No smoke without fire. "I think that you need to hit rock bottom before you make a decision about what you're going to do in the future," Superior Court Judge Rand Rubin told actress , who has to eat the fruit as a result of her probation violation.

Stood there in the court for allegedly being under the influence of a controlled substance, Love said, "Yes, your honor," when was asked if she understood she was admitting to three probation violations. Thus, the actress was ordered into a 28-day drug treatment program by the end Friday.

News
>
Celebrity Gossip
August 20, 2005 02:08:47 GMT
Former Singled Out host makes a surprise. After a nearly six years of marriage, she suddenly seeks for divorce from husband, director John Asher. As confirmed by her publicist, both of them have filed for divorce and citing, like usual, "irreconcilable differences" as the main cause. Well?!



News
>
Celebrity Gossip
August 20, 2005 01:58:00 GMT
She maybe a "Desperate Housewives" star, but in fact not that desperate. And so the actress, , got engaged to her stockbroker boyfriend of six months, Tom Mahoney, the actress' rep, Heidi Slan, confirmed to E! Online Friday.

Further Slan revealed that Mahoney popped the question over the weekend. Yet, "The happy couple have not set a date for the wedding yet," she continued.

News
>
Movie News
August 20, 2005 01:49:18 GMT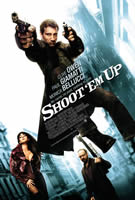 "" is a hard-core action project from screenwriter-director Michael Davis tells about a woman having a baby during a shootout. The man who delivers the baby, called Mr. Smith, is entrusted to protect it from an army of gunmen.

Will be producing the movie is Don Murphy, Susan Montford and Rick Benattar. Set to play among others are , and . Giamatti will play the villain who wants the baby dead, Owen as Mr. Smith, while Bellucci would be Owen's love interest.