News
>
Movie News
August 12, 2005 06:59:43 GMT
Rock band has to reluctantly postpone their eight appearances this month because lead singer Johnny Van Zant has inflamed vocal cords. A statement posted Thursday on the band's Web site said Van Zant has been ordered by doctors to rest his voice.

The delayed shows include a Thursday concert in Chillicothe, Ohio; Friday in Sedalia, Mo; Saturday in Springfield, Ill.; August 16 in Sevierville, Tenn.; August 18 in Dallas; August 19 in Beaumont, Texas; August 20 in Woodlands, Texas; and August 21 in Stillwater, Okla.

News
>
Movie News
August 12, 2005 06:31:18 GMT
Getting bored? Better not guys 'coz New Line Cinema is about to release their new production, which is the spec thriller "Scared Straight" of writer Joe Gazzam. Set to produce the film is Beau Flynn and Tripp Vinson.

"Scared Straight" focuses its story on a governor's teenage son who is sent to prison as part of Scared Straight, a crime-prevention program that imprisons delinquent teens for a short period in the hopes of deterring them from a life of crime. While the teenager is there, a riot breaks out and the prisoners take him hostage. He teams up with other street kids and a con to stop the riot.

News
>
Movie News
August 12, 2005 06:16:17 GMT
The urban action thriller "" has attracted rapper to star in. The film tells the story of an ex-con, O2, who while trying to go straight for the sake of his young son Junior is forced to go back outside the law when Junior is kidnapped in a carjacking.

This is the first for the Game to play in a film, and he'll star as a vicious criminal leader. Joining both stars in the Vondie Curtis Hall direction among others are to play a street-smart hustler, and who will play the role of O2's shady cousin.

News
>
Movie News
August 12, 2005 06:03:04 GMT
"" and "" not yet satisfy director Angela Robinson. Thus, she is about to make another one, which is an action comedy called "Genbot."

As for the plot, "Genbot" reportedly combines the best of Robinson's two previous films. The story centers on a young woman who finds herself caught up in a secret government organization who is turned into a cyborg.

News
>
Celebrity Gossip
August 12, 2005 04:56:22 GMT
must be relieved after Superior Court Judge David Yaffe has extended the order barring his ex-girlfriend, , to market their sex tape. The Irish actor formerly placed a lawsuit to Narain, charging her of working with an Internet pornography business owner and contacting the news media about the tape.

Narain actually has been blocked to sell, distribute, or display the tape last month by Yaffe. On Wednesday, the judge took decision to prolong the blocking.

News
>
Music News
August 12, 2005 04:39:19 GMT
Performing at Boston's City Hall Plaza on Tuesday as a part of their Fusion Flash Concert, wowed about 10,000 fans. At the same time, their album entitled "Chapter V" was also released under Atlantic Records. Next, the rock band is about to perform in Concord with on August 16.



News
>
Movie News
August 12, 2005 04:19:05 GMT
Hollywood actress , well known for her acting in "Se7en" (1995), is reportedly will team up with superstars and to star in a new movie about the Watergate scandal that toppled ex-US president Richard Nixon. Will write and direct the film, which will be produced for Hollywood's Paramount Pictures by movie icon and Dede Gardner of Plan B Productions, is Ryan Murphy.

Paltrow is set to portray Maureen Dean, the wife of White House counsel John Dean, who stood firmly by her husband when he was dragged into the fray. As for Streep, she will play Martha Mitchell, the whistle-blowing wife of former US attorney general John Mitchell, in a celluloid version of John Jeter's play "Dirty Tricks." Meanwhile, Bening will play Thomas, who worked for United Press International, and actress Jill Clayburgh will play the president's wife, Pat Nixon, who grew to loathe Mitchell for destabilizing the presidency.

News
>
Celebrity Gossip
August 12, 2005 04:15:32 GMT
at last can smile to herself as she won her lawsuit against former band-mate James Lloyd or known as Lil' Cease on Wednesday. She previously brought the case in June, accusing him for trying to release a DVD which was unauthorized and improperly used her name, image as well as her likeness.

Now the rapper surely is enjoying the taste of victory for the U.S. District Judge, Jed Rakoff, has granted her a court order blocking Lloyd from marketing or selling the DVD which was called "The Chronicles of Junior M.A.F.I.A. Part II: Reloaded."

News
>
Music News
August 12, 2005 03:49:26 GMT
Well done ! By the end of the first week of August, he has already had his two songs sitting in the top 30 of Billboard Hot 100 singles chart. His single "Let Me Hold You" featuring , secured the 4th rank, while the other one entitled "Like You," in which he collaborated with , rocketed from number 49 to 25.



News
>
Movie News
August 12, 2005 03:23:50 GMT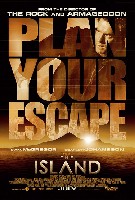 "" is a copy? The answer is "yes" according to Myrl A. Schreibman and Robert S. Fiveson. These producers of a 1979 film entitled "Parts: The Clonus Horror" claimed they have found a number of similarities between the two films and therefore placed a lawsuit against DreamWorks and Warner Bros as the distributors of "The Island."

Moreover, they also pleaded the court to order the studio to withdraw the film and block further release. Meanwhile, DreamWorks responded by denying the accusation, saying: "'The Island' was independently created and does not infringe anyone's copyright."