News
>
Movie News
August 06, 2005 05:51:48 GMT
isn't MacGyver nor does he is a Superman. Yet, in the upcoming movie titled "The Retriever" he'll act so, portraying the role of a hero who is about to single-handedly save the world from nuclear apocalypse.

"The Retriever" revolves around a group of Russian terrorists who get their dirty, democracy-hating hands on a Doomsday device abandoned at Chernobyl in the wake of the accident there. With nothing to lose, they put on their radiation suits, retrieve it and threaten to use it to destroy all life on Earth, unless their dreadful demands are met. And there comes Super Hero Diesel.

News
>
Movie News
August 06, 2005 05:11:34 GMT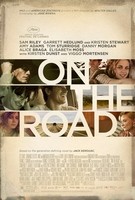 Wait till next year and you'll watch the worth to be seen movie "," which now still in development. Originally based on Jack Kerouac's novel of the same name, the masterpiece will be brought to the screen by Walter Salles and Jose Rivera. "On the Road" tells the story of Sal Paradise and his friend Dian Moriarty as they travel across the country, staying with old friends and meeting new ones and hustling to make ends meet.



News
>
Celebrity Gossip
August 06, 2005 04:53:31 GMT
As decides to keep continuing as Bongo's junior brand spokesperson for a second season, she's been chosen to promote the jeans line's new product. Thus, she and fiance Adam Goldstein appear together in print ads to launch the new collection of Bongo men's apparel.

Concerning their use for the ads, Bongo Creative Director Dari Marder explained "We asked them to act naturally and for them that meant a ton of PDA, as a result, many of the ads will feature them cuddling and kissing. We chose New York City's hot spot AER Lounge to host a party for the newlyweds-to-be and invited their friends and shot the campaign at the same time." The ad campaign, to note, is set to appear in September issues of such magazines as Seventeen, Elle Girl and Rolling Stone.

News
>
Celebrity Gossip
August 06, 2005 04:21:20 GMT
Have you ever thought or asked yourself what songs, movies, TV shows and books that bring changes to the world?! Now that "Uncut" magazine has held a poll of the 100 songs, movies, TV shows and books that "changed the world" in the opinion of musicians, actors and industry experts, you'll no longer confuse in finding the answer.

As on Friday, 's 1965 song "Like a Rolling Stone" topped the poll, beat 's "Heartbreak Hotel" which secured the 2nd place. Ranked at number 3 was ' song "She Loves You," followed by ' "(I Can't Get No) Satisfaction." Chosen as the 5th on the poll was Stanley Kubrick's film "A Clockwork Orange," prior to "The Godfather" and "The Godfather II" films in sixth place.

News
>
Celebrity Gossip
August 06, 2005 03:58:59 GMT
The 57th annual Monaco's Red Cross gala, held next Friday, will be liven up by pop singer . The moment will welcome for about 1,000 guests to wine and dine the night away at Monaco's casino, where a glowing neon red cross will hang over the entryway. A fireworks show over the Mediterranean will close the evening.

Tickets will be sold for $1,200 a plate. Despite Prince Rainier III absence, her son Prince Albert II and Hollywood star Grace Kelly are both slated to attend. More than €1 million (US$1.24 million) income are expected by the event organizers.

News
>
Music News
August 06, 2005 03:40:54 GMT
Memory is something too precious to be forgotten and erased from our mind. With such realization in mind, will, on September 13, release the DVD "Jimi Hendrix -- Live at Woodstock."

The double-disc set will depict Hendrix's closing performance at Woodstock on August 18, 1969, which is considered by many as one of the most iconic moments in rock history. Moreover, it will also capture the singer's only performances with the extended backing band Gypsy Sun And Rainbows.

News
>
Music News
August 06, 2005 03:01:26 GMT
Two thumbs up maybe not enough to give praise for the exceptional band , whose album "X&Y" has been certified double platinum in July by the Recording Industry Association of America (RIAA). Just a little more than a month after its release, the album has been sold for more than 2 million copies in U.S.. What a band?!

Also reaching multi platinum in July among others are who go quadruple platinum for their 1997 "Greatest Hits," and country singer , whose "When the Sun Goes Down" also reaches quadruple platinum. In between, singer has been notched double-platinum with his two different albums, namely "Somewhere Down in Texas" and his 2002 "20th Century Masters-The Millennium Collection." 's "Out of Exile," ' "Never Gone," ' "Monkey Business," ' "In Your Honor," 's "Il Divo," and 's "Collision Course," and 's "Twice the Speed of Light" are the rest that are reaching platinum.

News
>
Music News
August 06, 2005 02:35:29 GMT
In the Billboard-AURN R&B/Hip-Hop Awards held Friday, and were the two winning three awards each. As for 50 Cent, he was nominated for 6 categories and won 3, including Top Albums Artist, Top Rap Album and Top Album. Whereas Usher brought home awards for Top Artist, Top Male Artist and Top Singles Artist.

Also winning award at the same event was who was honored Top Songwriter and Top Female Artist. , to add, won Top Single and Top Singles Airplay for "Let Me Love You." Moreover, Billboard also honored with its Top Duo or Group Award. Some other got the award were for Top New Artist, R&B singer and hip-hop trio Tribe Called Quest for Founders Awards, given to artists for their achievements and influence in the R&B and Hip-Hop genres.

News
>
Celebrity Gossip
August 06, 2005 02:00:36 GMT
facing divorce papers filed by his wife of 12 years, Nicole, which of course isn't something funny for the comedian. The former model, who has mothered five of Murphy's children: Brea, Shayne, Zola, Miles and Bella Zahra, filed the papers in Los Angeles Superior Court.

Citing irreconcilable differences, Nicole has hired famed divorce attorney Neal Hersh, and is asking for custody of the children and seeking spousal support. "The welfare of our children is our main concern and their best interest is our first priority," as said by Murphy through his publicist, Paul Bloch, who confirmed the split to E! Friday.