News
>
Movie News
May 26, 2005 04:43:32 GMT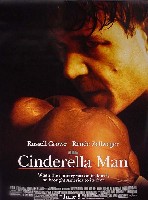 Once again Ron Howard outs his movie direction, which this time is adapted from screenplay by Cliff Hollingsworth and Oscar-winner Akiva Goldsman. And again, for the many times, Howard produces such movie that, indeed, high qualified and has been highly talked by many as being an awards contender.

Just now the director works with his Imagine Entertainment partners Brian Grazer and Penny Marshall, with whom he produces "Cinderella Man," which is believed as one of this year's five best picture slots. As for the cast, there is strong perfomances from actor Russell Crowe who portrays Depression-era heavyweight boxing champion James J. Braddock and Renee Zellweger as his wife. In addition to the exsited casts, there is also Paul Giamatti to play as Crowe's manager.

News
>
Celebrity Gossip
May 26, 2005 04:13:13 GMT
Tupac Shakur has already dead, but he's still alive in his mother's heart no matter what. Loves her son very much, Afeni Shakur wants to bring Tupac's bestowal into life by opening the Tupac Amaru Shakur Center for the Arts, planned to open June 11, 2005.

The project, costs $4 million, revolves around a six-acre campus in the Atlanta suburb of Stone Mountain that includes an art gallery, rehearsal area, offices, gift shop and a "peace garden," where a bronze statue of Tupac will be unveiled in one of its fountains in September. Moreover, there will also an additional planned museum, community meeting space and classrooms.

News
>
Movie News
May 26, 2005 03:48:54 GMT
As Scarlett Johansson and Carrie Anne Moss' departure from "Mission: Impossible 3," many actresses have been issued to replace their roles in the action movie sequel. Katie Holmes is one of the many mentioned to steal a "MI-3" role from Lindsay Lohan.

According to website Ananova.Com, Holmes has become the most favorite to replace Scarlett Johansson as Tom Cruise's love interest in the project. Besides, Keri Russell and Elisha Cuthbert are also reportedly in the running.

News
>
Celebrity Gossip
May 26, 2005 03:29:07 GMT
"That's hot" for Paris, but "That's too hot" for Parents Television Council (PTC), who quickly reponds to the hotel heiress' new TV commercial for Carl's Jr.'s Spicy BBQ Six-Dollar Burger as they assume it as porn ad.

The TV spot portrays Paris seductively washes a Bentley, dressed only in a skimpy bathing suit and stiletto heels, while a version of Cole Porter's "I Love Paris" plays in the background. At the end of the spot, the star bites into a monstrous burger with an expression that may be described as orgasmic as the screen fades out to the beauty's trademark phrase: "That's hot."

News
>
Celebrity Gossip
May 26, 2005 03:03:43 GMT
Watch out!!! The fuming Motley Crue are on their way to the legal battle. The rock band has filed a lawsuit in Los Angeles on Tuesday, accused NBC of violating their free-speech rights and hindered their sales following the network's decision to ban the group from performing on their stations.

The decision took by NBC stems from Crue's December 31appearance on "The Tonight Show With Jay Leno," when singer Vince Neil uttered an oath as he yelled a greeting to bandmate Tommy Lee shortly after midnight. Unfortunately, Neil was unaware that his statement was aired live. However, the band's bassist Nikki Sixx displeased with the decision and said in a statement, "This is about fair and equal treatment. We have a right to be treated in the same way as other artists who have made the same mistake."

News
>
Music News
May 26, 2005 02:38:59 GMT
The last five weeks have been rock act's week as they continued dominating the top charts. System of a Down is the one of many who doubled their pleasure as "Mezmerize," their first album in three years, debuted at No. 1 on latest Billboard album chart, sold approximately 453,000 copies. Along with the band's success was Toby Keith's "Honkytonk University," which debuted at No. 2 with 283,000 albums sold, while Mariah Carey's "The Emancipation of Mimi" remained in third place with 173,000 copies sold.

Last week champ, Dave Matthews Band's "Stand Up" fell to No. 4 with 158,000 copies sold, and soon followed by R&B singer Kem, whose second album titled "Album II" sold 140,000 to debut at No. 5. The other acts rounding out the list among others Weezer's "Make Believe," Gwen Stefani's "Love.Angel.Music.Baby," 50 Cent's "The Massacre," Natalie's "Natalie," and Nine Inch Nails' "With Teeth."