May 23, 2007 05:01:00 GMT
was left "devastated," again, that her close one plans to sell her story to public. First it was her relative that sold her secrets to a tabloid, and just now the talk show host was stunned as she learnt that her father is planning to write a book about her.

To make matter worse, Oprah learned about the memoir not from her dad, Vernon Winfrey, but from a gossip column. She testified that she laughed when one of her assistants told her that New York's Daily News was calling to ask about a book her father was writing. "I said, 'That's impossible. I can assure them it's not true,'" she said.

May 23, 2007 04:18:36 GMT
is free. The rapper was pleaded not guilty Tuesday May 22nd to two drunken driving-related charges stemmed from last month accident during which she crashed her Maserati into a cement divider in Hollywood Blvd.

The Grammy-winning rapper was arrested April 26th on suspicion of DUI after she crashed her Maserati into a divider on Hollywood Boulevard at about 2:40 a.m. She had been formally charged with driving under the influence and driving with a .08 blood alcohol level or higher.

May 23, 2007 03:48:17 GMT
makes media headlines again. The reality TV star and socialite was reported to have checked into rehab for treatment of an eating disorder and substance abuse.

Per media reports, it is claimed that Nicole checked into the Beau Monde Treatment Center in Corona Del Mar, California on May 11th to deal with anorexia and an addiction to pills. She reportedly weighing in at 83 pounds.

May 23, 2007 03:03:48 GMT
The split already over. In the wake of their shocking split, and were spotted together again not long after the break up rumors made their way among people.

Mayer, a rock singer, was spotted leaving the pop singer's New York hotel early Monday morning May 21st. A guest who spotted Mayer leaving Simpson's suite at the Soho Grand tells In Touch Weekly magazine, "He was looking really happy. He couldn't stop smiling."

May 23, 2007 02:36:33 GMT
Talking about bad luck, experienced it when she broke her nose over the weekend, just days before the season finale of "American Idol."

The judge was trying to avoid stepping on her pet chihuahua Saturday May 19th at home and fell, breaking her nose and toe, while tore her cartilage as well. Her publicist David Brokaw confirmed the incident, saying "She went to the doctor and she did break her nose, but she's moving on and doing great. She looks terrific. If you didn't know she broke her nose, you'd never guess anything happened to her."

May 23, 2007 02:24:21 GMT
Baby twins are on the way for Hollywood couple and Kimberly Buffington.

Lisa Kasteler, a publicist for Quaid, confirmed Monday May 21st the couple, married in July 2004, is expecting twins later this year by a surrogate mother.

May 23, 2007 02:01:14 GMT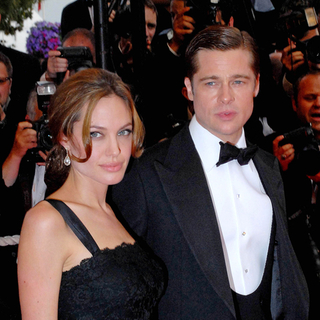 Fresh from her Cannes appearance with partner , has revealed that she wants to take a break from acting to focus on her family.

The movie beauty said Tuesday May 22nd while promoting "" at the Cannes Film Festival, "I'm working this summer. I'm in Prague for a few months, then I take two months off, then I work for two months. And then I take a year off."

May 22, 2007 07:59:36 GMT
Already announced to be the Action Movie Star of the Year last month, finally can bring the prize home as he was officially bestowed the title at the ceremony of this year's Taurus World Stunt Awards held Sunday, May 20.

Named so for conducting many of his own stunts in epic saga "", the actor received the trophy from the hands of fellow thesp , who described Butler's role as King Leonidas in the flick to be a "powerful, flesh-and-blood performance combined with brilliantly aggressive, athletic stuntwork."

May 22, 2007 07:11:25 GMT
Taking the second round in submitting big names for the presenters of its upcoming MTV Movie Awards, MTV has unveiled yesterday, May 21, the additional lineup of the list that has already included the likes of , , and in.

This time, more female celebrities are submitted as , , , , and are all given slots along with , , , and . For Adams, the event thus will mark her first official television appearance since her decision to settle in the U.S. to follow husband , who is slated to play in MLS for Los Angeles Galaxy this summer.

May 22, 2007 06:13:32 GMT
is about to invade Broadway so you better get ready for that. The R&B singer reportedly is in talks to play Maggie the Cat in a new Broadway revival of "Cat on a Hot Tin Roof."

The revival, to be directed by Debbie Allen, was slated to open later this year but was pushed back to accommodate Beyonce's schedule as producers want a bigger name than Broadway star who is said to have agreed to play Maggie.

May 22, 2007 05:11:36 GMT
What do and have in common beside that of their music career? It's business interest. The rock stars are teaming up to open a burlesque club.

Concerning their intention, the twosome has bought former New York Mafia haunt Little Charlie's Clam Bar in Little Italy and plan to launch an exotic striptease nightspot there this autumn.

May 22, 2007 04:21:34 GMT
has licensed his name to yet another project, teaming up with TNT Sports analyst and former NBA player Kenny Smith to create a new TV show.

The Oscar winning actor spills the bean to TheSportsInterview.com, "We have been doing an interesting show about an NBA player that has to live at home. That's the basis of it - a guy living at home with his family."

May 22, 2007 03:26:37 GMT
Hollywood action star was convicted for bringing muscle-amping hormones into Australia earlier this year and thus was ordered to pay nearly A$13,000 (US$10,690) in fines and costs.

New South Wales state Deputy Chief Magistrate Paul Cloran said the 60-year-old actor did not have a valid prescription for dozens of vials of human growth hormone found in his luggage when he visited Sydney in February on a promotional tour.

May 22, 2007 02:55:17 GMT
, former frontman, was arrested Sunday May 20th at his home in Boca Raton, Florida, and charged with assault related to domestic violence, stemmed from an apparent confrontation with his wife, former Miss New York Jaclyn Nesheiwat.

Speaking on the unfortunate, a sheriff spokesman explained, Stapp returned to his residence at about 8 a.m. after a long night of partying and was confronted by wife Jaclyn who began quizzing him on where he'd been. At that point, he became defensive and the couple started arguing.

May 22, 2007 02:42:56 GMT
On the heat of her marriage preparation, comes a new report that suggests is planning to adopt with fiance .

The "Desperate Housewives" star reportedly is desperate to become a mother and can't wait to settle down and start a family of her own.