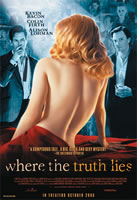 Overview
---
Genre
Drama
Release Date
October 14, 2005 (NY/LA)
Duration
106 min.
Production Budget
$25 millions
Studio
ThinkFilm
Official Site
click here

REVIEWS RATE: Critics Readers Be the 1st!
Cast and Crew
---
Director
Atom Egoyan
Producer
Robert Lantos
Screenwriter
Atom Egoyan, Rupert Holmes
Starring
Story
---
Based on the acclaimed novel by Rupert Holmes, WHERE THE TRUTH LIES is a provocative film about interconnected lives that are shattered by ill-fated acts of deception and ambition. Shifting effortlessly between mob-run clubs of the mid-50's and glamorous Hollywood Hills mansions of 1972, the film explores the dark, beguiling, and inevitably destructive side of fame and fortune. The result is a tense and atmospheric mystery that uses cinematic sleight-of-hand to challenge any preconceptions about "truth".
In the mid 50's, Vince Collins (Colin Firth) and Lanny Morris (Kevin Bacon) are the hottest showbiz duo in America. The combination of Lanny's brash American style and Vince's biting British wit is irresistable, especially to a beautiful women. The pair is particular favorite of Sally San Marco (Maury Chaykin), a mob boss who owns nightclubs up and down the east coast. He makes sure 'his boys' have anything they want. The 'anyone they want' is handled by Lanny's inscrutableman-servant, Reuben (David Hayman). When a beautiful young woman, Maureen (Rachel Blanchard) is found dead in the bathtub of the duo's suite, their glittery world begins in crumble. They have rock solid alibis and are exonerated of any criminal wrongdoing; however, the scandal causes the once inseparable pair to part company.
Fifteen years later, teh myth of the Collins and Morris controversy still fascinates the public. Karen O'Connor (Alison Lohman), a young and ambitious journalist is determinded to uncover the secrets of the two men who, coincidentally, touched her life when she was a child. She persuades a publisher to offer a guarded Vince Collins one million dollars to collaborate with her on writing the untold story of his life with Lanny Morris. There is one condition: the truth must be told about the scandal that destroyed the duo. What really happened the night Maureen dead?
After Karen hears that Lanny has written his own tell-all book, she flies to New York to meet her publishers. On the plane she comes face to face with Lanny himself. There is undeniable chemistry between the two. Unwilling to reveal her true identity, Karen pretends she is a schoolteacher. They share one passion night before resuming their separate lives.
As Karen continues to search for many different truths - the truth about Vince and Lanny, the truth about Maureen's dead, and even suppressed truths about herself - she becomes embroiled in a tense and bewildering game of cat-and-mous. The problem is, the more she learns, the less curtain she is of her role. Is she the cat .. or the mouse? And what are the consequences?