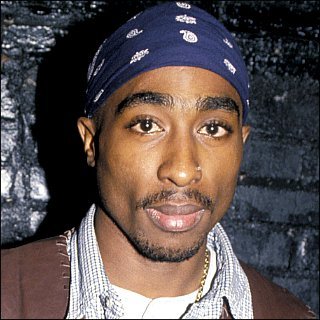 Profile
---
Famous as :
Rapper, actor
Birth Name :
Lesane Parish Crooks
Birth Date :
June 16, 1971
Birth Place :
East Harlem, New York, USA
Claim to fame :
Album "
2Pacalypse Now
" (1991)

Biography
---
by AceShowbiz.com
---
with a family friend in Marin City, California. There Tupac soon moved in with a neighbor and started selling drugs and hustling on the street, but also made friends who helped spark his interest in rap music. He made friends with Ray Luv, and with a mutual friend named DJ Dize, with both he started a rap group called Strictly Dope. Their recordings under the name "Tupac Shakur: The Lost Tapes" were released in 2001 and was immediately followed by neighborhood performances that obviously brought Tupac the more than enough applaud to land an audition with Shock G of Digital Underground. Supported by the group' members, in 1990 he began his career as a back up dancer for Digital Underground, a Northern California rap group best known for their P-Funk inspired sex songs. In the near future, Tupac began rapping with the group before he at the end left it to pursue a solo career and released his EP "Digital Undreground" debut, after which he signed to Interscope Records and released his first solo album entitled "2Pacalypse Now" in 1991. This album quickly made Tupac the most controversial rapper in hip-hop as he got a public admonishment by Vice President Dan Quayle for his music had clearly encouraged and or caused the shooting of a Texas police officer. Moreover, the album also set the tone for the singer's soon-to-be platinum formula: a mix of hardcore, gun toting, misogynist, Thug Life anthems, and a tender, caring, troubled side that exposed the light side of Tupac's darker image.

Even so, "2Pacalypse Now" album had quickly went gold thanks to the hit singles "Trapped" and "Brenda's Got a Baby," as well as a high-profile, seemingly self-portraying appearance Tupac did in "Juice," a hit movie that opened to gunfire in theaters and censorship of the movie poster. To support his fame, in 1993 Tupac outed his follow up album to the previous one titled "Strictly 4 My N.I.G.G.A.Z.," which was a hardcore masterpiece that responded to the controversies surrounding him and featured appearances by the other two most controversial West Coast rappers, Ice-T and Ice Cube. Just like the first, this album was also very success and became a platinum, peaking at number four on the R&B charts and launching the Top Ten R&B hit singles "I Get Around" and "Keep Ya Head Up," which peaked at number 11 and 12, respectively, on the ...