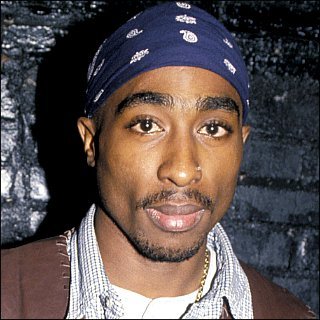 Profile
---
Famous as :
Rapper, actor
Birth Name :
Lesane Parish Crooks
Birth Date :
June 16, 1971
Birth Place :
East Harlem, New York, USA
Spouse :
Keisha Morris (29-Apr-95 - 1996) (annulled)
Claim to fame :
Album "
2Pacalypse Now
" (1991)
Biography
---
A highly celebrated actor and rapper, the late Tupac Amaru Shakur was born Lesane Parish Crooks in Brooklyn, New York City, on June 16, 1971, to Afeni Shakur, a member of the Black Panthers. Serving jail time on bombing charges while pregnant with Tupac, she faced a possible sentence of up to three hundred years in prison, but was released one month before Tupac was born as she acted as her own attorney. About his biological father Tupac said, "I never knew where my father was or who my father was for sure." His step father Metulu, to his knowing, was a drug dealer and was on the FBI's 10 Most Wanted List, whom he said was not always around to give him the discipline he needed. Impoverished during most of his childhood, Afeni took him and his half-sister Sekyiwa moving around to homeless shelters and various places around New York City. Such condition caused Tupac retained few friends and relied on writing poetry and diary entries to keep himself busy. At the age of 12 he joined a Harlem theatre group and acted as Travis in Lorraine Hansberry's "A Raisin in the Sun." One year later, in 1984 Tupac's mother brought him and his sister to live in Baltimore, Maryland, and lived in the infamous neighborhood, Roland Park, in East Baltimore where Tupac was intensely despised because of his looks, name, and lack of trendy fashionwear of the 80s. Even so he made a few friends while staying there and attended Roland Park Middle School. The following years he spent his time studied at Paul Lawrence Dunbar High, where for his sophomore year he was accepted to the Baltimore School for the Arts. It was there where Tupac for the very first time in his life "loved his classes" and had the opportunity to study theater, ballet, and other arts.

Nurturing his love to literature from his peers, Tupac gained the respect of Baltimore kids by acting like a tough guy and tried to write his first rap there under the name "MC New York." The song was about gun control and was inspired by the killing of one of his close friends. Two years later, his mother Afeni found it difficult to get a job, which he personally assumed as a result of her active involvement in Black Panthers, that she once again moved the family to live with a family friend in Marin City, California. There Tupac soon moved in with a neighbor and started selling drugs and hustling on the street, but also made friends who helped spark his interest in rap music. He made friends with Ray Luv, and with a mutual friend named DJ Dize, with both he started a rap group called Strictly Dope. Their recordings under the name "Tupac Shakur: The Lost Tapes" were released in 2001 and was immediately followed by neighborhood performances that obviously brought Tupac the more than enough applaud to land an audition with Shock G of Digital Underground. Supported by the group' members, in 1990 he began his career as a back up dancer for Digital Underground, a Northern California rap group best known for their P-Funk inspired sex songs. In the near future, Tupac began rapping with the group before he at the end left it to pursue a solo career and released his EP "Digital Undreground" debut, after which he signed to Interscope Records and released his first solo album entitled "2Pacalypse Now" in 1991. This album quickly made Tupac the most controversial rapper in hip-hop as he got a public admonishment by Vice President Dan Quayle for his music had clearly encouraged and or caused the shooting of a Texas police officer. Moreover, the album also set the tone for the singer's soon-to-be platinum formula: a mix of hardcore, gun toting, misogynist, Thug Life anthems, and a tender, caring, troubled side that exposed the light side of Tupac's darker image.

Back to Top

Back to Top