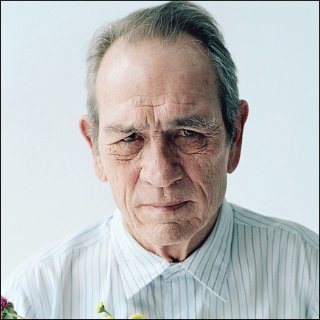 Profile
---
Famous as :
Actor

Birth Date :
September 15, 1946

Birth Place :
San Saba, Texas, USA

Claim to fame :
As Marshal Samuel Gerard in "The Fugitive" (1993)


Biography
---
by AceShowbiz.com
---
later. He got the role in Broadway's production of John Osborne's "A Patriot for Me" (1969), which was quite an achievement, remembering how difficult it was to appear in American's most prestigious theater headquarter. Soon Tommy was occupied with plenty of theater works. He joined the controversial off- Broadway production "Fortune and Men's Eyes" which depicted eroticism in prison and Sam Shepard's "True West" which was panned by critics and disavowed by Shepard himself for its failure. Despite the rocky road in his earlier career, he remained true with acting, "Acting is fun for me and it doesn't really matter how, whether it's hard work or easy work, it's always fun."

Tommy began to act on wide screen when he secured a small part on "Love Story" (1970) and then there came the real love life. Shortly after moving to New York Tommy met Kate Lardner, the grand daughter of Ring Lardner, the renowned columnist and short story writer in early 1900. They were married in 1971 but then decided to split up after 7 years of marriage. Tommy's name was more recognizable in "One Life to Live" (1968). He joined the longest soap opera ever in 1971 and it gave him the role Dr. Mark Toland until five years later he felt that he had stayed longer than he should. He planned to move on but didn't come back to Broadway either since it was going through a depleted phase.

TV series "Charlie's Angels" (1976) engaged him as the golden heart convict who braved himself to help one of the girls. From this point Tommy's bright career seemed imminent. Another big TV production "The Amazing Howard Hughes" (1977) put him in the leading male role, Howard Hughes himself. The furtive character who was piling up wealth as a Hollywood producer was fairly similar to Tommy's condition at that time. He was gaining fame and amassing his bank account at the same time.

While in the air, Tommy enrolled two 'O.K.' movies in the same year, "The Betsy" (1978) and "Eyes of Laura Mars" (1978). The former one portrayed Tommy as a young and seductive car designer who was hired by big-time car manufacturer played by Laurence Olivier. What's behind the scene was equally interesting. Olivier, who was known as a very competitive actor, saw Tommy as a new threat and 'spot-stealer'. It was actually a benefit for Tommy with ...