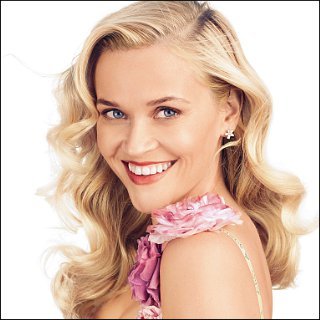 Profile
---
Famous as :
Actress

Birth Name :
Laura Jean Reese Witherspoon

Birth Date :
March 22, 1976

Birth Place :
New Orleans, Louisiana, USA

Claim to fame :
As Elle Woods in movie "Legally Blonde" (2001)


Having her own perfume, called "In Bloom By Reese Witherspoon", which she creates in partnership with cosmetics giant Avon (June 2009).
Chosen the 2nd in In Touch Magazine's list of Hollywood's Hottest Blondes in March 2007.
Included in People Magazine's list of The Best Dressed Stars of 2007, named the Celeb Next Door.
Turned a volunteer teacher for one day for at-risk youth of New Orleans at the Children's Defense Fund Freedom School in March 2008 as part of American Idol charity special, Idol Gives Back.
Sued Star Magazine over a cover story that claimed she is pregnant with her third child (June 21, 2006).
Was the first presenter to host "Saturday Night Live" (1975) after the September 11, 2001 attack.
Included in The Hollywood Reporter's annual list of the Highest-Paid Actresses in Hollywood; ranked 3rd in 2005 with $15 million per project and 1st in 2007 with $15 million to $20 million a movie.
Was the 2nd Hollywood's Hottest Mom according to a poll conducted by American magazine In Touch in November 2005.
Sang the soundtrack to the Johnny Cash biopic "Walk the Line" (2005) along with actor Joaquin Phoenix and had the set due in stores by November 15, 2005.
Included in Forbes Magazine's list of the Top 10 Most Trusted Celebrities in America (September 2006).
Signed to become Avon's first ever Global Ambassador, served as the Honorary Chairman of the Avon Foundation, focusing on breast cancer, domestic violence and emergency relief initiatives (July 2007).
Was cast for a role in "Mallrats" (1995).
Was nervous and blew the audition of Martin Scorsese's "Cape Fear" (1991) because the person next to her on the plane raved about Robert De Niro who would play her father and also the director's greatness. The role went to Juliette Lewis.
Ranked 5th in Forbes.com's first-ever analysis of Top-Selling Famous Faces (October 2007).
Her production company "Type A Films," which was also partly owned by Debra Siegal, stood for the nickname given to her by her parents when she was a child scoring excellent grades.
Named as one of the Top Moneymaking Stars of 2005 in an annual survey by Quigley Publishing Co.
Quitted her role in Joe Carnahan's remake project of the 1962 thriller "Bunny Lake Is Missing" in early March 2007.
Claims the 2nd spot on the Hollywood Reporter's 5th annual list of Highest-Paid Actresses, earning as much as $15 million per movie (November 2006).
Worked together with Tyra Banks to design wedding gowns for an online charity auction which profit will benefit the American Cancer Society (July 2006).
Is the number five in Teen People's list of Power-Wielding Players in Young Hollywood (August 2005).
Sticks to Steve Dontanville from the William Morris Agency who was her agent since "The Man in the Moon" (1991).
Starred in four movies which bore the name of songs such as "Jack the Bear" (1993), "Sweet Home Alabama" (2002), "Just Like Heaven" (2005) and "Walk the Line" (2005).
Was immediately offered singing contracts after singing her own songs in "Walk the Line" (2005).
Is two weeks older than actress Candace Cameron Bure.
Loves to collect antique linens and is a fan of embroidery.
Did a GAP ad which was displayed on a 6-storey high building on Sunset Boulevard.
Crowned "People of the Year" by Rolling Stones along with Eminem and Kelly Osbourne.
Sat at #22 in Entertainment Weekly's "Most Powerful List".
Listed as 'Favorite Female Film Star' by People Magazine in 2004.
Positioned #1 in E!'s Hollywood's Hottest Blondes in 2003.
Listed in People Magazine's "50 Most Beautiful People" in 2002.
Included as one of "Top 20 Entertainers" in 2001 and "Entertainers of the Year" in 2002 by E!
Listed in People Magazine's "25 Most Intriguing People of 2001".
Her wedding ring was the early 1990s Neil Lane, Asscher-cut-diamond and quite rare.
Was proposed by Ryan Phillippe while they were having a holiday in The Planter's Inn in Charleston, South Carolina.
Worked as an office product assistant in the film "Devil in a Blue Dress" (1995) to earn an extra credit in one of her high school classes.
Joined Gamma Phi Beta Sorority.
Joined a cheerleading team in high school and became a debutante.
Was a choice to play Juliet in "Romeo + Juliet" (1996).
Rejected the main roles in "Scream" (1996) and "Urban Legend" (1998).
Took her mother's maiden name Reese in her first movie "The Man in the Moon" (1991).
Was doing gymnastic for 7 years.
Won a "Ten State Talent Award" when she was only 11 years old.
Took adult acting classes at the age of 9 after two years taking children classes.
Was a model in TV ad of Nashville Florist when she was 7 years old.
Became a track suit model for Sunday newspapers and was paid $50 a day when she was a kid.
Is a direct descendant of John Witherspoon who signed the Declaration of Independence.