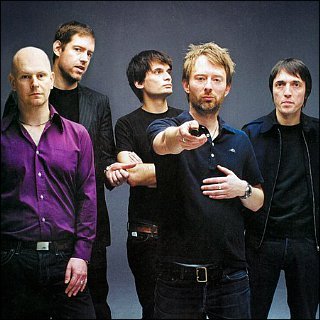 Profile
---
Famous as :
Rock band
Birth Name :
On a Friday
Birth Date :
1991
Birth Place :
Oxfordshire, England
Claim to fame :
Single "
Creep
" (1993)

Biography
---
by AceShowbiz.com
---
in February 1993 because 'Creep' was deemed "too depressing". The song was taken off from Radio 1 play list after only spun twice. However, the sound that was arguably not popular in that time frame slowly garnered attention among alternative rock fans that it took over the second position on Billboard Rock Modern chart.

It then reached #7 on U.K. Singles chart, prompting a nationwide success that brought them into the spotlight. The sudden fame almost broke them apart, mainly from the pressure of extensive touring and playing the same song over and over. The first Radiohead gigs were attended primarily for the performance of 'Creep', if they tried to play anything else, the crowd would reduce to mildness. To anticipate this, the band recorded an EP called 'My Iron Lung' in 1994 to introduce new materials to their growing fan base. Yorke described one of the tracks, 'My Iron Lung' as a metaphor for the way 'Creep' had both sustained the band's life and constrained them at the same time. Having through such phase, a second album was quickly prepared with the help from renown producer John Leckie. Emphasizing on the depth rather than its commercial factor, 'The Bends' was released in May 1995 to surprisingly, a warm welcome. The same album also made them, for the very first time, "fulfilled" as band because not only were they satisfied with the studio work but also overwhelmed by their fans' reaction. By this time, Radiohead was considered one of those acts that revived the second Britpop invasion in the U.S.

It took them two years to complete the third studio album, 'Computer OK'. This album marked the band's independence in the production as well as their first experimental piece. After completing a tour with R.E.M. and Alanis Morissette, the band took more radical approach in doing 'Computer OK' by taking their time during the recording sessions. For one thing, the band never expected that they could reach the same success 'The Bends' did and decided that it was time to change the musical and lyrical direction. On contrary to their own expectations, 'Computer OK' (1997) was a commercial success and a highly-acclaimed piece of work not only in U.K. but also Stateside. While it was predictably no. 1 in U.K., the album entered the notoriously hard-to-break U.S. Billboard Hot 200 chart at #21 and went on selling double platinum after ...