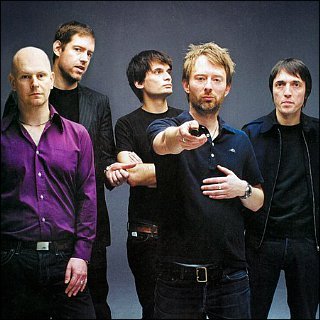 Profile
---
Famous as :
Rock band
Birth Name :
On a Friday
Birth Date :
1991
Birth Place :
Oxfordshire, England
Claim to fame :
Single "
Creep
" (1993)
Biography
---
The members of
Radiohead
were bound to meet each other when they enrolled in the same school. Abingdon School for boys in Oxfordshire witnessed a history in the making when the then-twelve-year-old Colin Greenwood and his younger brother Jonny Greenwood bumped into
Thom Yorke
who shared the same interest with them, music. In the same place, they also met future band mates such as Ed O'Brien and Phil Selway but it was only years after that that a band was formed. 'On a Friday' was officially brought to life in 1986, the year when they would sneak into school's music room just to rehearse their latest composition. "School was bearable for me because the music department was separate from the rest of the school. It had pianos in tiny booths, and I used to spend a lot of time hanging around there after school," Yorke recalled. They received a support from their music teacher, Terence Gilmore-James, who according to the band was the necessary backbone to their creativity development. While juggling with school work, they landed local gigs in Oxford but fame did not come as fast. It took them a graduation and some mundane months in University before going full-time with the profession.
After getting nowhere with their respective part-time jobs, the band recorded demo tapes and landed more live gigs in 1991. Their music captured the attention of one audience, Chris Hufford, who forwarded the news of their talent to producer Bryce Edge. Hufford took in the band's demo tapes and acted as their manager. While working in a record shop, Colin met an EMI rep named Keith Wozencroft who helped the band to strike a deal with the major label in late 1991. Based on the request made by the recording house, 'On a Friday' changed their stage name to 'Radiohead' after a song from Talking Heads' album 'True Stories'. Creating a trust circle for their talent, EMI signed them for six albums productions. The first attempt, however, was not exactly smooth for their EP 'Drill' was generally not accepted well in the market although it contained the early version of their claim-to-fame single, 'Creep'. Based on Yorke's experience with the opposite sex while in University, 'Creep' was then developed further to become their first single out of the band's debut album '
Pablo Honey
'. Still, the album was not a breakthrough for Radiohead when it was released in February 1993 because 'Creep' was deemed "too depressing". The song was taken off from Radio 1 play list after only spun twice. However, the sound that was arguably not popular in that time frame slowly garnered attention among alternative rock fans that it took over the second position on Billboard Rock Modern chart.