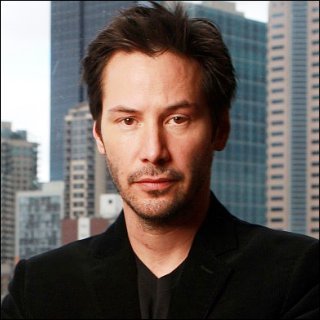 Profile
---
Famous as :
Actor

Birth Name :
Keanu Charles Reeves

Birth Date :
September 02, 1964

Birth Place :
Beirut, Lebanon

Claim to fame :
As Ted Logan in "Bill & Ted's Excellent Adventure" (1989)


Biography
---
by AceShowbiz.com
---
Keanu Charles Reeves was born on September 2, 1964 in Beirut, Lebanon to an Asian American of Chinese and Hawaiian descent geologist Samuel Nowlin Reeves and an English showgirl Patricia. Keanu is actually a very unique name, it's spelled "Key-ah-nu" which in Hawaiian means "cool breeze over the mountains." There was a move to Australia for a year where Keanu's first sister Kim was born in 1966, which soon followed by his parents dissolution. Subsequent to their marriage dissolved, Patric and Samuel went their separate ways, in which she and the two kids headed to New York City, while Samuel to Hawaii. Since that time Keanu visited his father in Hawaii on occasion until he was thirteen, the time he saw him for the very last time. And in the year of 1994 it was reported that Samuel was sentenced to ten years in prison for selling heroin at Hilo Airport in 1992. He was paroled in the mid-1996, but both father and son were no longer maintaining contact with each other.

Soon after their move to New York, Patric met and married director Paul Aaron and moved to Toronto, where both took up Canadian citizenship. Less than a year later they split up and Patric went on to marry rock promoter Robert Miller and gave birth to Keanu's second half sister, Karina, in 1976. Switched partners a few times more, Patric for one more time got divorced and married her third husband Robert Miller, a hair salon owner, whom she divorced with in 1994. Facing such verity, Keanu later on tend to describe himself as a "middle-class white boy. A bourgeois, middle-class white boy with an absent father, a strong-willed mother, and two beautiful younger sisters."

Enrolled at the Jesse Ketchum Public School in Toronto from kindergarten through the eighth grade, Keanu went on to four different high schools including De La Salle College and the Toronto School for the Performing Arts before at the end dropping out completely at age 17 to pursue his acting career. In high school he wasn't so enthusiastic about academics, rather he took a keen interest in ice hockey that he was named "The Wall" goalie by his high school hockey team. Besides becoming an avid hockey player he was also interested in drama. And he maybe a hardworker too, as during his youth he took on lots of different jobs, including sharpening ...