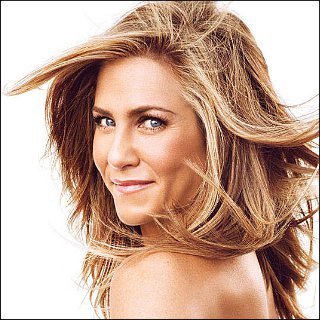 Profile
---
Famous as :
Actress

Birth Name :
Jennifer Joanna Aniston

Birth Date :
February 11, 1969

Birth Place :
Sherman Oaks, California, USA

Claim to fame :
As Rachel Green in TV series "Friends" (1994-2004)


Posing naked, wearing only a necktie, for the cover of GQ magazine's January 2009 issue.
Chosen 3rd on Forbes' list of Hollywood's Best Paid Actors for the females category, raking in an estimated $27 million between June 1, 2007 through June 1, 2008.
Takes over the cover of Harper's Bazaar November 2007 issue, celebrating the magazine's 140th year.
Has been chosen No. 1 in Forbes.com's first-ever analysis of Top-Selling Famous Faces (October 2007).
Shared with Angelina Jolie the predicate of Most Powerful Actress granted by Guinness Book of World Records in September 2007.
Signed on to be the face of Glaceau's SmartWater, an "electrolyte enhanced" drink with the slogan "water that's the envy of all water" (April 2007).
Was voted the 2nd Most Unlucky in Love Female in Hollywood by In Touch Weekly magazine in April 2007.
Ranked 4th in a poll on World's Sexiest Bodies compiled by women magazine Glamour in April 2007.
Had a nose job, undergoing rhinoplasty to fix a deviated septum (January 2007).
Ranked 10th in Forbes magazine's list of the "20 Richest Women In Entertainment" with an estimated worth of $110 million (January 2007).
Ranked 3rd in In Touch magazine's poll of the Best Legs in Hollywood (January 2007).
Was the 7th Best Dressed Woman according to a poll conducted by UK Glamour Magazine in January 2007.
Chosen as one of the "Top Newsmakers of 2006" in Access Hollywood's 11th season.
Voted the No. 10 Best Dressed Female in a poll conducted by American publication Life & Style in December 2006.
Named the 6th Most Annoying People of 2006 in a poll conducted by Star magazine.
Ranked 10th on the Hollywood Reporter's 5th annual list of Highest-Paid Actresses, earning as much as $8 million per movie (November 2006).
Chosen 1st on the poll of the Most Wanted Star Hairstyles conducted by In Touch magazine in November 2006.
Ranked 2nd on Film Threat's annual list of "Frigid 50: The Coldest People in Hollywood" in November 2006.
Made her directorial debut, shot a short film "Room 10" with Andrea Buchanan, Kris Kristofferson and Robin Wright Penn for style magazine Glamour's annual Reel Moments project (August 2006).
Was the 10th Highest Paid Actress with a $9 million payment per film according to a poll conducted by The Hollywood Reporter in December 2005.
Has been voted as one of the Sexiest TV Beauties of All Time based on the survey of British supermarket Sainsbury's (August 2005).
Ranked 2nd in a poll conducted by In Touch magazine in June 2005 on the Hairstyle Most Women Want.
Was included in People's annual "50 Most Beautiful People" list in the year of 2005.
Ranked 11th in FHM's list of Top 100 Sexiest Women 2004 and 100 Sexiest Women in the World 2005 Special Supplement, also the 88th on the Maxim Magazine's Hot 100 of 2005 and 12th in STARmeter's Top 25 for 2005.
Made her Broadway debut on Oct 23, 2006 in New York City's Times Square during New York's 6th Annual 24-hour Plays on Stage event, played in "Three Girls and Bob" which profits went to the charity Working Playground.
She and Oprah Winfrey were named the 9th Top Newsmakers for 2005 by US TV show Access Hollywood.
Chosen as "The Natural" to top People magazine's list of Best-Dressed Women of 2006.
Is said to have the most perfect legs in Hollywood according to a scientific study carried out by electronics giant Braun (July 2006).
Chosen as the World's 9th Most Beautiful Woman in the June 2006 poll conducted by the UK magazine Eve.
Earned the title of Woman of the Year in 2005 from GQ Magazine.
Showed up in the 2005 Heineken TV commercial for European region which was frequently aired before UEFA Champions League.
Topped Forbes' Celebrity 100 List in 2003 due to her superb achievement in making $35 million dollars throughout the year.
Was selected as International Star of Stars at the 2002 Scorpio Multimedia Cable TV Awards.
Experienced minor injuries in displayed in a car accident happened in L.A by January 2002.
Was mentioned one of E!'s Top 20 Entertainers of 2001.
Filed a lawsuit against Man's World Publications Inc. and Crescent Publishing Group in 2000 for publishing photos of her sunbathing topless in her own backyard.
Was listed as one of People Magazine's Most Beautiful People in the World in 1999 and 50 Most Beautiful People in 2002.
Made a skit satirizing Brad Pitt's stalker, Athena Marie Rolando, when hosted "Saturday Night Live" in 1999.
Was included in People Weekly's list of Most Intriguing People by December 1995.
Invented a widely popular hairstyle called The Rachel in 1990s whereas it in fact was created accidentally by a friend who cut her hair with razor.
Worked as a Nutri-System girl on "The Howard Stern Radio Show" during the late 1980s and early 1990s.
Often plays a blue collar worker in her screen projects, like "Friends" (1994), "Office Space" (1999), "The Good Girl" (2002), "Along Came Polly" (2004), and "Friends with Money" (2006).
Became the first celebrity to visit Robert Downey Jr. when he was imprisoned in Corcoran Jail.
Married Brad Pitt in Malibu on a Greek-style wedding ceremony.
Is the stepdaughter of Sherry Rooney.
Dropped 30 pounds after her agent said she wasn't being cast because of her weight.
Participated in the "Got Milk?" campaign.
Had a strained relationship with her own mother following the older woman's unflattering remarks about her in a tabloid, even refused to invite her to her wedding ceremony, but later reconciled with her after her split from Brad Pitt.
Is one of the Hollywood actresses who have a fear of flying.
Was born on the same date and month as Mike Shinoda of Linkin Park, Burt Reynolds, Sheryl Crow, and Kelly Rowland were.
Once joined an audition for regular cast member in "Saturday Night Live" with Lisa Kudrow some time before their success on "Friends."
Underwent jobs as telemarketer, receptionist, waitress, and bike messenger in the beginning of her acting career.
Was the schoolmate of Chastity Bono, the daughter of Cher and Sonny Bono.
Was known to be a class clown during her high school years.
Had her painting she made during her early years displayed in the Metropolitan Museum of Art when she was still 11 years old.
Dislikes spicy foods also Greek, Chinese, and Indian food, but is very fond of Mexican food.
Is the close friend of fellow "Friends" star Matthew Perry and actress Andrea Bendewald to whom she served as matron of honor at her 2001 wedding.
Practices Budokon, a combination workout program of martial arts, atheletic yoga, and meditation created by Courteney Cox's trainer Cameron Shayne.
Her favorite movies include "Wuthering Heights" and "Fame."
Her middle name, Joanna, was derived from her paternal grandmother's name.
Is the goddaughter of the late Telly Savalas and the godmother of Coco Riley Arquette, the daughter of Courteney Cox and David Arquette.