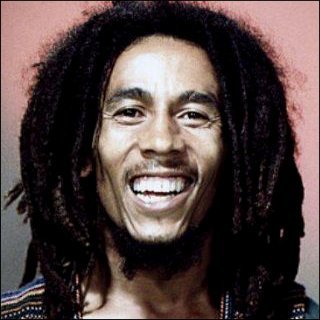 Profile
---
Famous as :
Reggae singer

Birth Name :
Robert Nesta Marley

Birth Date :
February 06, 1945

Birth Place :
Nine Miles, Saint Ann, Jamaica

Claim to fame :
Single "No Woman, No Cry" (1975)


Biography
---
by AceShowbiz.com
---
named Alvin Patterson, the group began their recording for the Studio One label owned by Clement "Coxsone" Dodd. Their first single, 'Simmer Down,' surprisingly became a huge hit in Jamaica.

By January 1964, 'Simmer Down' had reached number one at JBC Radio Chart and sold well over 80,000 copies. This success was followed by their other tracks, such as 'It Hurts to be Alone' and 'Rule the Roadie.' Nevertheless, the unity of the group was threatened for Junior, Beverly, and Cherry quit in 1965. Bob then took the lead vocal position so that the group could still do the recording sessions for the label. Meanwhile, he finally married his long-term girlfriend, Rita Anderson on February 10, 1966, before leaving Wailing Wailers to pursue a better finance in America. He returned to Jamaica by November and reunited with Bunny as well as Peter. They afterwards agreed to rename the group as The Wailers and left Studio One label to establish their own. Using his savings, Bob established Wail 'N' Soul 'M Records while recording a single entitled 'Bend Down Low' for his group. To their relief, the single was fairly successful, becoming one of the local hits. On the other hand, the record company could not run well so that it had to be closed in 1967.

1966 also marked Bob's first acquaintance with Rastafarianism through his wife who had converted to this religious movement during his leaving. Rastafarianism basically possesses a doctrine on selections from the Bible with many members bolstering nonviolence actions and the rejection of materialism. Its followers regard Ethiopia as the Promised Land and Haile Selassie as a messiah. Embracing the teachings, Bob, along with two other members of The Wailers, began to grow dreadlocks and apply marijuana, which are the symbols of Rastafarianism. The group also embedded the faith in their music, making it as the solid foundation of their compositions. With this new awareness, The Wailers tried to find their way back to the top. In 1969, they met Lee 'Scratch' Perry who then offered them to record under his label. Backed up by Perry's house band, The Upsetters, the group produced a series of singles, such as 'My Cup,' 'Duppy Conqueror,' 'Soul Almighty,' 'Small Axe,' 'Soul Rebel,' and '400 Years.'

This collaboration of The Wailers and Perry proved to be such a brilliant idea. All the singles were marvelous tracks, containing powerful vocals and ...