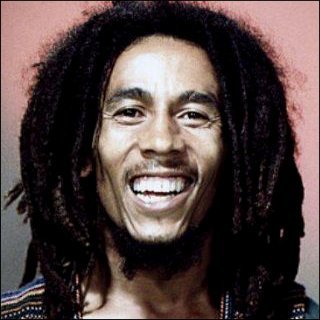 Profile
---
Famous as :
Reggae singer

Birth Name :
Robert Nesta Marley

Birth Date :
February 06, 1945

Birth Place :
Nine Miles, Saint Ann, Jamaica

Claim to fame :
Single "No Woman, No Cry" (1975)


Ranked 12th on Forbes.com's 7th annual list of Top-Earning Dead Celebrities, taking in an estimated $4 million during the 2007.
Ranked 13th on Forbes' 6th annual Top-Earning Dead Celebrities list conducted in the year of 2006.
Has his "Redemption Song" credited as the 4th Britain's Favorite Lyric in a poll conducted by music channel VH1 (April 2006).
His home in Kingston, Jamaica has been declared a national monument by Jamaican government in its official statement on February 7, 2006.
Four of his nine children, Ziggy, Cedella, Stephen, and Sharon Marley, formed a music group called The Melody Makers.
In 1999 he was honored Album of the Century by Time Magazine for "Exodus" (1977).
Awarded Jamaica's third highest honor, the Order of Merit (February 1981).
Has been named Band of the Year by Rolling Stone magazine (1976).
Voted the 11th Greatest Rock 'n' Roll Artist of all time by Entertainment Weekly.
His song titled "One Love" has extensively been used for Jamaican tourism commercials.
Is buried with his favorite guitar, which is a cherry red Fender Stratocaster, in a mausoleum at Nine Miles.
A compilation album of his entitled "Legend" (1984) has become one of the highest selling "greatest hits" recordings by a solo artist.
Awarded the International Peace Medal by the African delegation to the United Nations in 1978.
His parents were to be married on June 9th, 1944, but they never did it because his paternal grandparents did not approve of the relationship.
Always had his hair in dredlocks, which is one of the symbols of Rastafarianism.
Tuff Gong is his nickname.