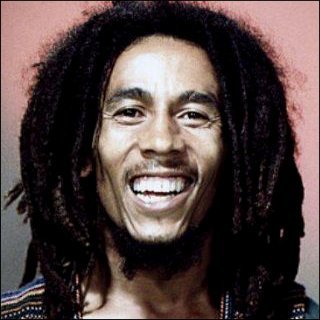 Profile
---
Famous as :
Reggae singer

Birth Name :
Robert Nesta Marley

Birth Date :
February 06, 1945

Birth Place :
Nine Miles, Saint Ann, Jamaica

Spouse :
Alpharita Constantia Anderson (Rita Marley) (10-Feb-66 - 11-May-81) (his death)

Claim to fame :
Single "No Woman, No Cry" (1975)

Biography
---
Having been considered as the worldwide icon of reggae,
Bob Marley
was the pioneer for introducing and bringing Jamaican music to worldwide acclaim. He had given a prominent contribution to bring reggae to be the center of attention of all people in the world. Therefore, it is undeniable to address him as one of the most distinguished artists of all time. Not only was he an extraordinary musician, but also a Rasta prophet, poetic songwriter, and revolutionary singer who was greatly respected. All of that came from his brilliantly created and intriguing tunes which deal with humanity, spirituality, brotherhood and peace for all mankind. Although he is no longer in this world, his music undoubtedly still remains eternal and echoes all over the universe.
Bob was born as Robert Nesta Marley on February 6, 1945 in a small village called Nine Miles, Saint Ann, Jamaica. He is the son of a middle-aged British Naval Officer named Norval Sinclair Marley and a native Jamaican teenager, Cedella Booker. Shortly after his birth, his father left the family to Kingston. However, he still gave financial support and occasionally returned to visit his son. Since it was difficult to earn a living, her mother decided to look for an employment in the big city. She therefore took 14-years-old Bob along, moving to Trenchtown which located in the west of Kingston. It was in this city that he became friends with Neville "Bunny" Livingstone. Sharing the same interest in music, these two young boys took a class held by Joe Higgs, a famous Jamaican singer. During this time, both of them met and befriended a classmate named Peter MacIntosh or better known as Peter Tosh.