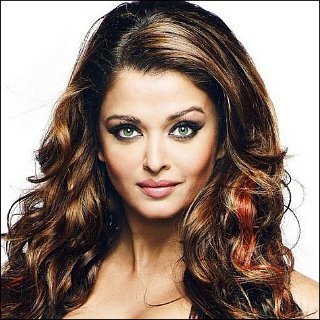 Profile
---
Famous as :
Actress

Birth Name :
Aishwarya Krishnaraj Rai

Birth Date :
November 01, 1973

Birth Place :
Mangalore, Karnataka, India

Claim to fame :
Miss World in 1994


Became the first Indian and South Asian actress to be featured on The Oprah Show (April 25, 2005).
Voted #9 in 'Harpers and Queen' magazine list of 100 Most Beautiful Women of Today (June 6, 2005).
Won the title of "Miss Photogenic" in the 1994 Miss World Pageant.
Turned down the role of Briseis in the film "Troy" (2004).
Became the first Indian actress to be interviewed on 60 Minutes (January 2nd, 1968).
Her wax figure is on display Madame Tussaud's wax museum, making her the 1st Bollywood and Indian actress to do so (2004).
Due to her touring schedule, Ash Turned down a role in "The Myth" (2005), which was eventually given to Mallika Sherawat.
Has more than 17,000 websites dedicated to her.
Has a tulip named for her produced in 2005.
Despite the many offers, she refused to work with Salman Khan after their break-up.
Ran the Olympic-torch relay in June 2004.
Is good friends with actress Preity Zinta.
Has won over 50 awards since she was 20.
Has a puppy named Sunshine, which her friend Vivek Oberoi gave her as a gift.
Gains a cult following in Pakistan.
Learns classical dance and music during her teens, and so she's a trained classical dancer.
Her ears were bleeding due to the heavy earrings she had to wear for the filming of the music video 'Dola Re Dola' from the movie "Devdas" (2002).
Sued 'Star and Style' magazine for a sum of Rs 2 crores for printing an article claiming actress Raveena Tandon had caught her and Akshay Kumar in a compromising position at the pool side of a five star hotel.
Before becoming a star she once auditioned for voice dubbing for a television serial, and was rejected.
She turned down the role of Priya in the film "Chalte Chalte" (2003).
Along with Aamir Khan, the two are the only stars to advertise for both Coca Cola and Pepsi.
Receives at least two movie offers every day.
Speaks English, Hindi, Kannada, Tamil and Urdu.
Rekha is the first movie star she's ever met.
Turned down the lead role in "Munnabhai M.B.B.S." (2003) which later given to Gracy Singh.
Turned down the role of Mastani in "Bajirao Mastani" film (2005).
Is a Bunt, a South Indian community who mainly speak Tulu, which is Aiswarya's mother tongue.
Is the first Bollywood star to appear in Rolling Stone magazine (Issue 932, October 2, 2003).
Signed as L'Oreal's new international brand ambassador in April 2003.
Voted as The Most Attractive Woman of 2003 in a poll conducted by Hello Magazine, beating Nicole Kidman, Catherine Zeta-Jones, and Gwyneth Paltrow.
Her weakness is willingness to take people at face value, while her positive side is self-assurance that's ever present even in the worst situations.
She's possessive about the people she cares for.
Her dream man is a kind of handsome, but not necessarily tall and dark.
What make her happiest are family and a very close group of friends.
Admits to never go on diet.
Her favorite movie of all-time is "Casablanca."
Raj Kapoor and Nargis are her favorite hero-heroines.
Earned the title of Miss World 1994 at the age of 20.
Featured in the Guinness Book of World Records 2004.
Has successfully achieved icon status all over South Asia.
Her favorite subject in college was Zoology.
She was the Coca Cola Girl for the Middle Eastern countries.
Camlin pencils is her first ever commercial, which she makes when she was in the 9th grade.
Originally cast in the role of Jwala in the film "1857: The Rising" (2004), but dropped out before filming started due to contract problems and the role was later given to Amisha Patel.
Not too fond of jewelry, loves to collect watches instead.
Attending the premiere of her film "Devdas" at the 2002 Cannes Film Festival in a coach and wearing a beautiful yellow-orange embroidered sari, caused a hysteria.
The April 2003 incident she had on the set of "Khakee" rekindled the discussion about poor safety standards on Bollywood film sets.
Broke a bone in one foot and suffered severe cuts on the sets of "Khakee" (2003) when a car driven by a stuntman got out of control, hit her, took her down a crevice and slammed her into a cactus plant.
Has becoming the ambassador for Longines watches since 1999.
Is the runner up of Miss India 1994.
Being offered Rani Mukherjee's role in "Kuch Kuch Hota Hai."
Originally wanted to study medicine, but circumstances prevented her.
Was born in a traditional south Indian family.
Has several nicknames, including Ash, Aishu, Gullu, and The Queen of Bollywood.
Her movie "Bride and Prejudice" (2004), for which she gained 20 pounds to add a sense of realism to the character, is a Bollywood version of Jane Asuteen's classic novel "Pride and Prejudice."
Was one of TIME Magazine's "100 Most Influential People in the World" (2004).
Is the first Indian actress chosen to be on the jury at the Cannes International Film Festival.
Has made more than 50 music videos in only 7 years.
Aishwarya is the highest paid actress in Bollywood.
She signed for L'Oréal Paris, DeBeers Diamonds, and Coca-Cola.