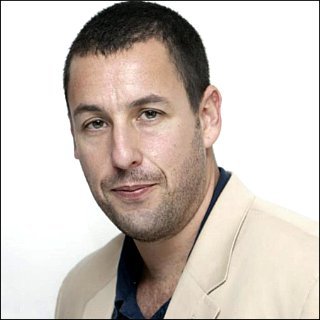 Profile
---
Famous as :
Actor, singer

Birth Name :
Adam Richard Sandler

Birth Date :
September 09, 1966

Birth Place :
Brooklyn, New York, USA

Claim to fame :
As Robbie Hart in "The Wedding Singer" (1998)


Broke his ankle while playing basketball in March 2008.
Held a performance at the Republican national conference in 2004.
Actually was cast to play Max the taxi driver in "Collateral" (2004) but gave up the role to work on "Spanglish" (2004).
His English bulldog, Meatball, died on January 27, 2004 at age 4 because of a heart attack. It previously was the best "man" at his wedding.
Was named the Worst Male Hair in a celebrity hair survey held by Wella in 2003.
Was included in the 2003 edition of Guinness World Records as the movie star with biggest annual earnings, with paychecks totaling 47 million U.S dollar in year 2001 alone.
Dressed in an Armani tux for his wedding to Jackie Titone held in June 2003.
Gained the 35th position on Premiere's annual Power 100 List in 2003 after was placed on the 43rd rank in the previous two years.
Delivered a speech at Manchester Central High School's 2003 graduation ceremony in which his nephew was one of three Valedictorians.
Was selected as Best Actor at Gijon International Film Festival in 2002 for his role in "Punch-Drunk Love" (2002).
Appeared as a bongo-player in "The Hot Chick" (2002).
Collaborated with Alison Krauss to record two songs for "Eight Crazy Nights" (2002).
Was the one who shouted "Freak!" from out of screen at the tall lady Deuce Bigalow accompanies in "Deuce Bigalow: Male Gigolo" (1999) while also provided the voice of the roller blade player in "Big Daddy" (1999) when he fell over a stick.
His fourth comedy album, "Stan and Judy's Kid" (1999), has made a record of being the comedy album with the highest selling points in its first week of release.
Was considered for the role of Azrael in "Dogma" (1999) together with Bill Murray, but it was Jason Lee who finally nabbed the role.
Originally was given a role in Peter Berg's "Very Bad Things" (1998).
Got the inspiration to make the story of "The Waterboy" (1998) from his own song, "The Lonesome Kicker."
Often submits a reference to his fellow SNL performer, Chris Farley, in his movies since the older man's death in 1997.
Underwent the process of reading for 5 times for a lead role in "Brain Donors" (1992), but it later went to John Turturro.
Once was parodied by fellow comedian Jimmy Fallon in an episode of "Saturday Night Live."
Became a Resident Advisor in Brittany Hall during his study at New York University.
Was one of Manchester Central High School's junior varsity team members and a member of the Tau Epsilon Phi fraternity during his college years.
Has frequently worked with his former NYU roommate and close friend Tim Herlihy to write for his movies, such as in "Billy Madison" (1995), "Happy Gilmore" (1996), and "The Waterboy" (1998).
His favorite music bands include Styx and Van Halen.
Is a major supporter of Yankee and often attends the baseball games in which the Yankees are playing.
Was born on the same date and month with Hugh Grant.
His production company's name of Happy Madison is derived from his two films, "Happy Gilmore" (1996) and "Billy Madison" (1995).
Is a huge fan of professional wrestling and even put references to this branch of sports in most of his self-written films, like "Billy Madison" (1995), "The Waterboy" (1998), and "Little Nicky" (2000).
Often includes Peter Dante, Jonathan Loughran, Allen Covert, and Blake Clark also former SNL performers in his movies.