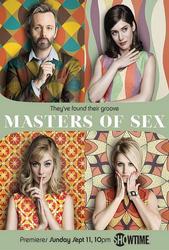 TV Info
---
Next Show
Eps 3.01:
Parliament of Owls
July 12, 2015
Category
TV Series
Genre
Drama
Seasons
3
Production Co.
Sony Pictures Television
Distributor
Showtime
Official Site
click here

The Story
---
The year is 1966, and "Masters of Sex" season three finds the famed duo of Masters (Michael Sheen) and Johnson (Lizzy Caplan) dealing with the glare of the national spotlight as their sex study is finally unveiled. It's the start of the Sexual Revolution - and Masters and Johnson's work will have a profound impact on contemporary relationships, especially their own evolving three-way "marriage" with Masters' wife Libby (Caitlin FitzGerald). Starring Emmy and Golden Globe nominee Michael Sheen and Emmy nominee Lizzy Caplan as real-life pioneers of human sexuality, William Masters and Virginia Johnson, "Masters of Sex" chronicles their unusual lives, romance and pop-culture trajectory.
Masters and Johnson's research touched off the sexual revolution and took them from a mid-western teaching hospital in St. Louis to the cover of Time magazine. The series is an adaptation of Thomas Maier's book Masters of Sex: The Life and Times of William Masters and Virginia Johnson, The Couple Who Taught America How To Love.
The Stills
---