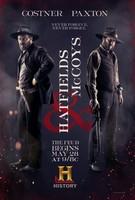 TV Info
---
Category
TV Series
Genre
Drama
Production Co.
Leslie Greif's Prod. Comp.,Thinkfactory Media
Distributor
History
Official Site
click here

The Story
---
It's the true American story of a legendary family feud-one that spanned decades and nearly launched a war between Kentucky and West Virginia. Hatfields & McCoys, a three-part miniseries, showcases an all-star cast led by Kevin Costner and Bill Paxton. It chronicles a clash of clans that inspired passion, vengeance, courage, sacrifice, crimes and accusations, while forever transforming the two families and the region they lived in.
The Hatfield-McCoy saga begins with Devil Anse Hatfield (Costner) and Randall McCoy (Paxton). Close friends and comrades until near the end of the Civil War, they return to their neighboring homes-Hatfield in West Virginia, McCoy just across the Tug River border in Kentucky-to increasing tensions, misunderstandings and resentments that soon explode into all-out warfare between their families. As hostilities grow, friends, neighbors and outside forces join the fight, bringing the two states to the brink of another civil war.
The Stills
---