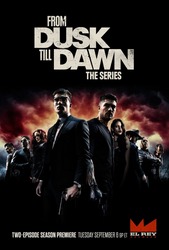 TV Info
---
Next Show
Eps 2.01:
Opening Night
August 25, 2015
Category
TV Series
Genre
Crime, Thriller
Seasons
2
Production Co.
FactoryMade Ventures, Miramax, Rodriguez Int. Pict
Distributor
El Rey
Official Site
click here

The Story
---
Season one of "From Dusk Till Dawn: The Series" centered on bank robber Seth Gecko (Cotrona) and his violent, unpredictable brother, Richard "Richie" Gecko (Holtz), who were on the run to Mexico when they encountered former pastor Jacob Fuller (Robert Patrick) and his family, who were taken hostage. Using the family RV to cross the border, chaos ensued when the group detoured to the Titty Twister, a strip club populated by culebras, snake-like ancient creatures who survive by drinking human blood. They were forced to fight until dawn in order to get out alive.
Season Two explores a new chapter in this supernatural crime saga that expands the universe of our story across two borders from Mexico to the edgy, tricked-out Texas of Robert Rodriguez. It also deepens and complicates the core relationships between the characters, while adding new faces and dynamics. Season Two begins with our characters in their separate worlds - Santanico (Gonzalez) and Richie (Holtz) are outside Houston, living like Bonnie and Clyde; Seth and Kate (Madison Davenport) are scraping by in the South of the Border; Freddie Gonzalez (Garcia) is protecting his wife and young daughter in a Houston suburb: and Carlos Madrigal (Valderrama) and Scott Fuller (Brandon Soo-Hoo) emerge from the Titty Twister, as changed men. They will all come together once again - this time facing off against an even bigger threat.
The Stills
---