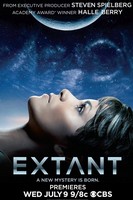 TV Info
---
Category
TV Series
Genre
Drama, Sci-Fi
Starring :
Halle Berry
,
Camryn Manheim
,
Jeffrey Dean Morgan
,
David Morrissey
, Pierce Gagnon, Hiroyuki Sanada,
Goran Visnjic
, Michael O'Neill, Grace Gummer, Tessa Ferrer

Academy Award winner Halle Berry stars in "Extant", a serialized drama from Steven Spielberg's Amblin Television and CBS Television Studios. In a thrilling drama, Berry will play an astronaut who returns home from a year-long solo mission in space and tries to reconnect with her husband and son in their everyday life. Her experiences in space and home lead to events that ultimately will change the course of human history.
This season, astronaut Molly Woods (Berry) discovers she has unwittingly put the human race on a path to destruction, and that she and mysterious stranger J.B. Richter (Jeffrey Dean Morgan) may be the only hope for survival.