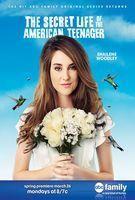 TV Info
---
Episode Premiere
May 06, 2013

Distributor
ABC Family

Genre
Drama

Show Period
2008 - 2013

Production Company
Brendavision!, Prodco, Inc.


Cast and Crew
---
Director
Gail Bradley
Screenwriter
Brenda Hampton, Elaine Arata
Main Cast
Synopsis
---
Kathleen's mother VICTORIA comes to town because she has a heart condition and is need of Kathleen's care. Grace reveals that she and Jack are now engaged. A new girl, LAYLA, flirts with Ethan and signs his petition to have algebra dropped from school. Ethan allows Layla to cheat from his algebra test which he earns an A on. BRIAN, also a student, asks Kathy for help studying for the spelling bee finals. Ethan is jealous and inquires with the school counselor about joining the spelling B. Ricky tells George that he and Amy are getting married the day after she graduates and George automatically assumes something is wrong because Amy didn't tell him herself. It turns out Amy wants to get married the day after she graduates so she can attend summer school in New York. EVA, George's estranged mother arrives on a motorcycle. Ben admits to Chloe that he loves Amy and is following her to school in New York, even summer school. Victoria and Kathleen discuss their differences- Victoria is upset Kathleen always chooses men who cheat and Kathleen doesn't want her children to be subjected to her mother's judgment. Madison and Lauren tell Amy they have been accepted to Berkley and are excited to attend. Grace has a breakdown after hearing that Grant has been accepted to Harvard and she was rejected. She then tells Grant she wants to sleep with him because they are both smart, ambitious, and want the same things out of life. She admits to not knowing what she's doing and says Jack is going to ruin her life. Grace determines she can get out of marrying jack by seeing a psychologist. Adrian and Omar have sex and the condom breaks, he suggest the morning after pill but Adrian insist she's safe. George and Kathleen get married at George's restaurant. The next morning Kathleen goes to awake Victoria but she doesn't respond. Is she dead?