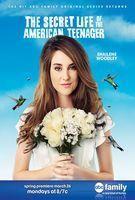 TV Info
---
Episode Premiere
April 29, 2013

Distributor
ABC Family

Genre
Drama

Show Period
2008 - 2013

Production Company
Brendavision!, Prodco, Inc.


Cast and Crew
---
Director
Keith Truesdell
Screenwriter
Brenda Hampton, Elaine Arata
Main Cast
Additional Cast
Synopsis
---
Amy falls asleep on Ben's shoulder on the plane and he pretends to be married to her and slips off her wedding band. Ricky asks George for help paying for Amy's apartment in New York, but George refuses, he wants Ricky to stop Amy from going to Hudson University. Ethan starts a petition to get algebra removed from the curriculum to avoid studying for his algebra test with Kathy. Ethan and Kathy go door to door asking people to sign the petition until they knock on DANICA MCKELLAR's door, aka Winnie Cooper who now writes books about math. Danica offers to help Ethan study, making Kathy jealous because she's so pretty. In an attempt to ease Kathy's jealously Ethan tells Kathy that she looks like a stripper so she has nothing to worry about, but Kathy's dad is furious by the stripper comment. Adrian and Omar agree to a plan that Adrian will research colleges in New York. But Adrian secretly has lunch with Omar's mom to help her convince Omar to stay in LA until Adrian graduates college. When Omar finds out she went behind his back he retaliates and tells Adrian they are having dinner with her parents to discuss the situation. Jack wants to go to college with Grace, but she's hesitant. He also asks her to take a pre-marital class for couples who are about to get engaged. Jack's mom, Didi, goes to Grace to tell her she doesn't like her but she better not break up with her son and go to a college far away. Ricky is upset when he notices Amy's wedding band is missing. Amy asks Lauren and Madison over to babysit while Amy tries to find her ring. Meanwhile, Ben upsets Chloe when he asks her if she's dating anyone since she's still tormented by her past as a hooker. Ricky discovers he's Ben's new boss on Saturdays when Bunny is out. Ben offers the idea of getting an apartment for Ricky, Amy, John and himself to share in New York, but Ricky isn't thrilled with the idea. Amy asks George for financial help, but he also turns her down and tells her she needs to settle down with Ricky and John and stop pursing old dreams. Nora admits to George that she's looking for a new apartment because she told Ricky not to marry Amy. Amy goes to Ben's house and finds her wedding band, she also discovers Ben pretended to be married to her on the plane. Ricky relieves Lauren and Madison or their babysitting duties and both girls confess Amy is being selfish about New York. Ricky wonders if Amy even wants to get married anymore. He also admits he loves her but he's not in love with her. Amy overhears their entire conversation through the door and comes in ready to set a date for their wedding. Amy and Ricky tell George they plan to get married after graduation, before Amy heads to NYC for college. Omar asks his dad STAN for support, but Stan doesn't think he should marry Adrian. Grace tells Jack she's open to take the pre-marital course, but Jack takes it to the next level saying he wants to marry her and have her babies, Grace secretly feels sick about it. Ben invites Chloe to dinner to apologize for his dating comment and ask her to stop tattle-tailing to Leo. Chloe says she needs to be open with Leo because she loves him. George tells Kathleen he's ready to make their romance official, but then Kathleen's mom, VICTORIA shows up. Ethan apologize about the stripper comment to Kathy.