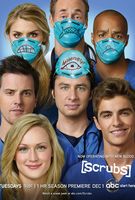 TV Info
---
Episode Premiere
January 01, 2010

Distributor
ABC

Genre
Drama, Comedy

Show Period
2001 - 2010

Production Company
Doozer, Towers Prod., ABC, Touchstone Television


Cast and Crew
---
Director
Michael McDonald
Screenwriter
Kevin Etten
Main Cast
Additional Cast
Synopsis
---
Lucy is juggling so many things just to keep up with life in medical school. In addition to her studies, she's scanning slides for Turk's lecture, calling her dad with a daily life report and dealing with her soon-to-be-married sister. She also has to pencil in time to pleasure Cole. Good thing he's on her "to do" list.
It becomes evident that Lucy just can't keep up with things when photos from her sister's bachelorette party pop up during Turk's slide presentation. Speaking of Turk, he's been completely depressed ever since J.D. left (it was yesterday). Elliot tells him to find someone else to buddy-up with around the hospital. Turk holds a series of interviews with folks like Drew, the security guards, the Todd, Dr. Cox and Dr. Kelso. But they are all so un-J.D.-like. The search continues.
Turk is also feeling down about a patient who needs an operation which he probably won't survive. It would be nice to have a best friend around to help him get through this tough time. But the hunt for a replacement J.D. has come up empty. Or has it? Turk seems to have bonded with an unlikely ally: Denise. They both enjoy stealing cake from perky coworkers. They also like to point out people who look like other people. There's a nurse on the third floor who looks like a Nigerian Kelly Ripa! No word on where a foreign-looking Regis may be lurking.
Elliot is the kind of doctor Lucy longs to be, so she decides to shadow her. After all, Elliot is a pregnant, loving wife who always has time for her patients. She's the complete package. Lucy is impressed when Elliot promises a nervous patient that she'll be around to comfort her after she wakes up from her operation. But then she's caught off-guard when Elliot says she's heading home. Could her new role model be a lying, selfish jerk?
Cole is getting on everyone's nerves with his over-the-top attitude. Drew tells him he needs to dial it down a bit. He says the school newspaper is coming out next week and they are publishing the school rankings. Cole knows that his rich daddy may cut him off if he's down at the bottom of the list. Dr. Cox tosses him some "extra credit" work which includes giving a very large man an alcohol bath all over his entire body. Nice.
Dr. Cox continues to dole out grunt work to Cole so that he can up his ranking. He's been cleaning foot ulcers and must do a manual, rectal disimpaction on a very constipated man. All of Cole's hard work seems to have paid off. The school newsletter comes out and Cole is at the top of the list. Of course, that's just because his last name is Aaronson and the alleged "ranking" is nothing more than an alphabetized list of all the interns. Drew has not yet decided if he's gonna tell Old King Cole the truth. We're guessing he won't.
Lucy confronts Elliot about the fact that she bailed on her patient. Elliot says that if there was a problem someone at the hospital would have called. That theory doesn't fly with Lucy. She thought that Elliot could do everything. But apparently it's at the expense of her patients. That theory doesn't fly with Elliot. She asks Lucy to replace a patient's IV. Lucy hasn't slept much lately. She neglects to disinfect the incision area and her hands are shaky because she's jacked up on caffeine.
Lucy comes down hard on herself for another "swing and a miss" in her young med school career. Elliot comforts her by saying, "When I got pregnant, I learned two things-Ketchup on cereal is delicious and sometimes you have to be selfish." That's the crazy thing about being a doctor. You can't take care of your patients until you first take care of yourself. Looks like Elliot truly is a good role model for Lucy. Hey, we knew it all along.