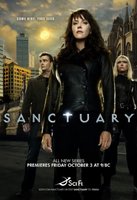 TV Info
---
Episode Premiere
October 07, 2011

Distributor
Syfy

Genre
Sci-Fi, Crime, Mystery

Show Period
2008 - 2012

Production Company
Sanctuary 1 Productions


Cast and Crew
---
Director
Martin Wood
Screenwriter
Damian Kindler
Main Cast
Synopsis
---
Magnus must travel back in time in an attempt to stop Adam Worth from altering the course of history forever. The madman has bent time and space, destroyed the underground empire of Praxis and left a trail of bodies in his wake in order to return to the 1890s and save the life of his daughter, Imogen.
Magnus stepped fearlessly through the temporal rift into the London of 1898, but once there she realizes how difficult it will be to catch Adam. Her modern appearance, attitude and weaponry are all liabilities that need explaining, especially to her erstwhile colleague, James Watson. Magnus reveals only as much information as she must in order to quell her friend's curiosity and win his trust before the two set to work apprehending Worth.
Now dressed in the garb and armed with the pistols of the day, Magnus tracks down Worth and attempts to dissuade him from his plan, both with words and with force, but to no avail. Later, when the contemporary Worth approaches Watson and Magnus for help recovering his missing daughter, Magnus sees that the timeline has already been altered - the future Worth has abducted his own daughter and is no doubt administering the Praxian cure he found for her illness.
On her way to stop Worth, Magnus encounters the Abnormal that will become the Sanctuary's first resident, a humanoid creature by the name of Spring-Heeled Jack. Jack is responsible for the murders attributed to Jack the Ripper, and Magnus persuades Spring-Heeled Jack to end his rampage and find asylum with her and Watson.
When she reaches Worth's laboratory, she realizes that she is indeed too late: the future Worth has cured his daughter, and life will never be the same. In her rage and confusion, Magnus draws on Worth and a deadly volley ensues. Worth flees and Magnus gives chase, as does Imogen. In the confusion of the pursuit, Worth blasts a Praxian weapon at some overhead stones, attempting to bury Magnus, but instead raining rubble down on his own daughter and killing her.
Worth turns again on Magnus, but she has secured his Praxian gun. She turns him to dust with it and flees, both to protect herself and to preserve as much as possible of the future she knows. The contemporary Worth soon appears on the scene, and the sight of his deceased daughter transforms him from a humble if misunderstood scientist into a vengeful monster bent on destroying Magnus, Watson, and anyone else who stands in his way.
Magnus returns to the safe companionship of Watson and shares with him her plans for suicide - her solution to prevent any further rifts in the timeline. He dismisses the notion out of hand, suggesting that she go into hiding for as long as she must, then reappear just when she had left the first timeline. The prospect of more than a century of seclusion is grim, but perhaps not so much as eternal silence. The two friends share a moment of respite and satisfaction at having stopped both Worth and Spring-heeled Jack, then turn their minds to the question of how Magnus will survive 120 years of solitude.