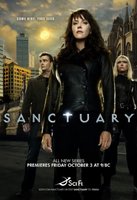 TV Info
---
Episode Premiere
November 25, 2011

Distributor
Syfy

Genre
Sci-Fi, Crime, Mystery

Show Period
2008 - 2012

Production Company
Sanctuary 1 Productions


Cast and Crew
---
Director
Damian Kindler
Screenwriter
Damian Kindler
Main Cast
Synopsis
---
Abby is in the grips of a horrible virus that makes her transform from her human form into various enormous beasts, and Magnus has no idea how to stop it. While Henry and Abby's partner, Gavin, comb the streets looking for clues, Magnus decreases Abby's medication slightly in hopes that Will can speak to her in her human form and convince her to fight the transformations.
But as Will keeps vigil, Abby wakes and begins singing! Magnus realizes that the changes in Abby's DNA override her ability to communicate, making it so that she can only speak and understand through song. If they want to be understood, they'll have to sing to her.
Henry and Gavin find a cocoon and bring it to Magnus, who identifies it as a galvonic blood tick hybridized with a parasite designed to transform human DNA. Such a cocoon would never grow in an urban environment by accident, which means that someone must've planted it. But why? Henry theorizes that Hollow Earth insurgents put it in Abby's path in order to see if such a hybrid could successfully take root in a human. If it works, they may transform all of humanity into Abnormals. Abby is a test case for a body-snatching epidemic.
As Abby's condition worsens and the being inside her gets stronger, she almost destroys Will, but they resedate her and Will continues to keep vigil. When she escapes and tries to kill herself, they realize that this is no parasite, but a life form intent on overtaking Abby's enire being.
And international business doesn't stop for Magnus - her teleconference with the other heads of Sanctuary is even more stressful than usual because she can't tell whether they, too, are singing, or if she's imagining that variance on reality. But as she returns to study Abby's case, she imagines her father singing to her, and gets an idea. Since Abnormal DNA tends to be more aggressive on its claim to existence, the creature in Abby would latch on to a weaker being if give the choice. Magnus can insert a new life form into Abby's body to tease the intruder out.
But Will is not okay with the risks, namely, that this new life will burst violently out of Abby once it hatches. He opposes Magnus so fiercely that Magnus orders him to be locked up while the procedure takes place. Gavin, in an attempt to make things right for letting his partner fall into this state, busts Will out of containment. Will races to the operation room just in time to see the creature fly out of Abby's torso. Magnus is able to save Abby's life, barely, and ensnare the intruding life form.
Things are tense between Magnus and Will, and though he's grateful that Abby's alive, it may take some time for peace to be restored to their relationship.