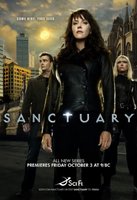 TV Info
---
Episode Premiere
December 09, 2011

Distributor
Syfy

Genre
Sci-Fi, Crime, Mystery

Show Period
2008 - 2012

Production Company
Sanctuary 1 Productions


Cast and Crew
---
Director
Lee Wilson
Screenwriter
Alan McCullough
Main Cast
Synopsis
---
It's hectic business as usual at the Sanctuary when a video missive comes in from Kate via the London Sanctuary. She has intel on a planned Abnormal attack on the surface, so Magnus drops everything sends Will across the pond. Biggie is on a mission to Hollow Earth and is not responding to their messages, but Magnus isn't worried, knowing he can take care of himself.
Kate debriefs Will and the two of them go to question Kate's source, who is being held captive and thus is reticent to reveal any information to the enemies of the Hollow Earth uprising. But when he discovers that his own organization executed an attack on one of its own cells, he reveals that the underground rebels were planning an attack on the convention that is to take place in Lisbon where SCIU will meet with its international counterparts to form an alliance and quash the Abnormal revolution.
Magnus, meanwhile, goes to warn Greg Addison of SCIU about the attacks, but he pulls the rug out from under her when he reveals evidence that Biggie is one of the chief operators in the planned attack. Magnus knows this must be a mistake and directs Henry to look for anything that will clear his name. What Henry finds, instead, is a recording of Biggie pledging alliance to the Hollow Earth uprising. Magnus is devastated, but her quick mind soon pieces together an explanation: The Crixorum, the Abnormal with prodigious mind control abilities, somehow wormed out of his drug-induced coma to control Biggie's mind. She questions the Crix on his devious machinations, but learns only that the change to Biggie's mind is permanent.
Will, Kate and Declan, while attempting to halt the attack in Lisbon, learn not only that the convention is a decoy - the real gathering is happening in Buenos Aires - but also that the terrorists know it is a decoy and have an Argentinean attack lined up, and Biggie is one of the suicide bombers. Everyone flies there to head it off, with Magnus taking special care to find Biggie and talk him down from the ledge. With Kate's help, she manages to bring him in, but they all sustain hefty injuries.
In her convalescence, Kate reveals to Will that she and the Abnormal, Garris, are in love and engaged. He congratulates her, though he's sad that she won't be helping them at the Sanctuary any more. Biggie, recovering from his mind control with the help of Sally the Mermaid, is attrite at the thought of the harm he almost cost, but Magnus does her best to soothe his conscience. She even sends him out to collect supplies for their research, but his gratitude belies his true intentions, for, once free of the Sanctuary walls, he slips into a meeting full of Hollow Earth refugees, uttering the password as he enters the dim hall: "From below, we rise."