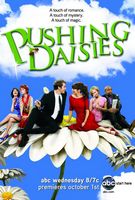 TV Info
---
Episode Premiere
October 22, 2008

Distributor
ABC

Genre
Drama, Comedy

Show Period
2007 - 2009

Production Company
Jinks/Cohen Company, Living Dead Guy Prod., The WB


Cast and Crew
---
Director
Peter Lauer
Screenwriter
Lisa Joy
Main Cast
Additional Cast
Synopsis
---
The facts were these: Emerson Cod, Private Investigator, was born into his profession by way of his mother, Calista Cod. Together the Cods would investigate crimes, collect the cash and confide in one another. Young Emerson found his job "bad ass." They promised each other to always tell the truth...
Emerson runs into his mother at The Pie Hole, where she charms everyone and no one with her wit, taste for hooch and sardonic wit.
New roommates Olive Snook and Charlotte Charles decide to leave work together, leaving the Pie Maker to bemoan the loss of his former roommate and current girlfriend. At home, Chuck and Olive put all their concerns on the table to clear the air... though both are still uneasy with the truth.
As Emerson is about to spill the beans about his own "Lil' Gum Shoe," Veronica Villanueva walks in and asks the dapper dick to help her solve the murder of her best friend, Joe. She shows the Cods photographs of the two drinking cosmos, getting their nails done and going shopping together. All seems in order until Emerson realizes this is the same Joe who was best friends with a local dentist. With Eugene Halifax, Joe would do manly things like sky dive and drink beer.
Ned, Emerson and Chuck talk to Joe at the morgue, only to learn that he's been stabbed in the back -- literally -- and reeks of formaldehyde. Joe has no idea who killed him, but wonders if it's related to his best friend... and is saddened to know that he can never tell his girl, Downy, how much he cared.
The next day, the Cods interrogate Eugene and Veronica simultaneously to get the facts, and learn both had hired Joe through My Best Friend, Inc. to be their best friend. Eugene was shy, and Veronica was too sultry to attract honest men and non-competitive women.
Chuck and Olive go undercover at My Best Friend, Inc. to be frescorts (friends for hire). They pass Barb's test and start training. Ned and Emerson talk to the company's owner, Buddy, and learn that he started the company to atone for misbehaving in high school.
Emerson and Ned pay a visit to Joe's old apartment and meet Randy Mann, Joe's former roommate. Randy and Ned commiserate together over their loss of roommates -- Randy losing Joe and the Pie Maker losing Chuck to Olive. Randy's squirrelly behavior throws off the detectives and they try to deifier his deal.
Randy shows up at The Pie Hole with offal, ready to make good on Emerson's fake coupon for free baking lessons. As the cooking begins, Mr. Cod starts snooping around Randy's apartment only to discover that he, too, had used Joe as a frescort... albeit as a full-time roommate/friend. As Emerson digs, he finds Randy's unsavory taxidermy hobby and is sufficiently creeped out... especially when he discovers Joe's appendix.
Randy and Ned bond over being lonely children that had few friends beyond their pets. Randy brings Ned a present, a taxidermied Golden Retriever posed as a musician. Ned worries that Randy killed Digby, only to learn that the animal in question is really Butterscotch, Randy's old friend. Just as Ned asks Randy to leave, Emerson forces the friendless taxidermist to spill the beans on the appendix soaking in formaldehyde. Randy owns up to hiring a frescort, but explains that the organ was a gift from his dead best friend.
Back at My Best Friend, Inc., Olive and Chuck are in training to become better listeners and mix tape makers. They run into Barb in the locker room and discover that she's "Downy," Joe's love. (Their mutual interest in crossword puzzles apparently had developed into a mutual interest in each other, though frescorts were not allowed to fraternize.) Barb breaks down upon hearing the truth and then stuffs the new roomies into a locker... where the confined space forces the two to actually open up about their squabbles.
Emerson finds his mother snooping through his office, only to discover that Calista thought his pop up book, "Lil' Gum Shoe," was a smear campaign against her parenting. Emerson confesses that he has a 7-year-old daughter that he never told her about and that the book was his way of getting her back.
Emerson helps Olive and Chuck escape the locker at My Best Friend, Inc., and the gang (minus Olive) finds Barb hugged to death in Buddy's office. After Ned's touch, Barb tells them that Joe was working with a "bleacher lecher" on the night of his murder and that a school mascot was the one who had set the hug machine to 11.
Buddy walks in and the gang tells him who they believed killed Joe. Buddy runs away to get help, but really just to run away. In the ensuing chaos, Ned accidentally touches the quarterback in Buddy's office only to learn that he was once very much alive. Buddy, apparently, was not the high school golden boy as he professed, but instead a socially-inept nerd with delusions of grandeur. When the truth came out, he became violent and killed the school's high school quarterback. Buddy also became homicidal upon learning that Joe wasn't really his friend, but just an employee (with a crush on Downy, aka Barb). So he had to kill them all.
Ned stops by Randy's place to drop off the meat pies and they bond (again) over their need to be happy being alone. This inspires The Pie Hole to hold a mixer for former clients of My Best Friend, Inc.
Chuck and Olive make peace as roommates and friends; and Emerson and Calista make peace as friends and relatives. Calista also gives Emerson notes on his book, specifically on how to get his daughter back.