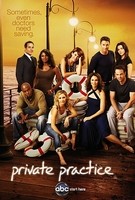 TV Info
---
Episode Premiere
February 02, 2012

Distributor
ABC

Genre
Drama, Comedy

Show Period
2007 - 2013

Production Company
ABC, ShondaLand


Cast and Crew
---
Director
Mark Tinker
Screenwriter
Jennifer Cecil
Main Cast
Additional Cast
Synopsis
---
Jake convinces Addison to let him drive as the two of them head off to Palms Springs. He was taught that a man pulls out a chair, opens doors and drives a woman to any stuffy medical conferences they may be attending together. Addy is still trying to get over her breakup with Sam by enjoying her fair share of bacon cheeseburgers. She knows that Jake can't really relate since he's never been dumped.
Addison doesn't feel like socializing at the medical shindig. That's why she opts to get drunk by herself in the hotel lounge. Jake, on the other hand, mingles in the ballroom before heading up to his room. Knock, knock! Someone's at the door! It's not room service. It's a totally tipsy Addison asking Jake if he'd like to have sex with her. Guess what his answer is?
Much to Addison's dismay, Jake declines her inebriated offer because she's still not over Sam. It's also partly because he saw her vagina in a medical way. Jake eases Addy's embarrassment the next morning by having a delicious bacon cheeseburger waiting for her when wakes up. On the ride home, Jake reveals that he has been dumped before. There was that time when a beautiful doctor didn't show up for a trip to Fiji.
Sam's friend, Rick, is an Army veteran who is suffering from PTSD. This has put a strain on his relationship with his wife, Kelly. Rick needs serious help especially after a failed attempt at suicide. Sheldon finally gets the despondent soldier to open up about what happened to him while on his tour. His trauma had nothing to do with combat. Rick was sexually assaulted by his sergeant.
Rick is afraid others will wonder why he didn't stop what was happening to him. Sheldon tries to tell him that he did what he had to do to survive. He also knows the shame Rick is feeling is largely because he's a man. Things don't get any easier when Rick finally tells Kelly about the incident. Her reaction is exactly what he'd feared it would be.
Kelly admits that she doesn't feel the same way about her husband now that she knows what happened. Sam asks her to not blame Rick for something that wasn't his fault. She doesn't. Kelly shows up at the hospital to take her husband by the hand as they take the first steps toward healing together.
Erica is wheeled into the hospital after being involved in an auto accident. Mason was in the car, too. Thankfully, his injuries are superficial. Erica's condition is more serious. Her brain tumor caused her to lose consciousness behind the wheel. Amelia says things are only going to get worse. This gets Cooper very angry since Mason was put in danger. He lets Erica know that he won't let something like this happen again.
Violet lets Cooper know that he's not really angry about the car accident. He's angry because Erica is dying. Coop gets even more upset after Erica has a seizure in front of Mason. Charlotte thinks he should ask Erica to do whatever she can to live. That's a different approach from when he demanded her to do it. Coop has a heart-to-heart with Erica, who ultimately agrees to fight.
Pete catches Violet kissing Hot Scott while dropping off their son. Don't worry. Lucas didn't see Mommy kissing someone other than Daddy. That doesn't mean Pete isn't ticked. He has a nasty war of words with Violet, who reminds her estranged hubby that he's the one who left her. The next time Hot Scott shows up at Violet's place, the two of them look to do a lot more than kiss.
In other news, Sam heads down to the local jail to bail out a young lady who swiped some cash from a convenience store register. It's a bit of a shocker when we learn that this mystery thief is actually Sam's sister.