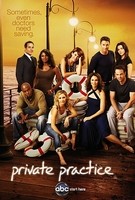 TV Info
---
Episode Premiere
January 12, 2012

Distributor
ABC

Genre
Drama, Comedy

Show Period
2007 - 2013

Production Company
ABC, ShondaLand


Cast and Crew
---
Director
Scott Printz
Screenwriter
Zahir McGhee
Main Cast
Additional Cast
Synopsis
---
Mason blows away Cooper in spelling battle as the kid preps for a big bee. It's troubling how bad Coop is when it comes to spelling, but Amelia is more concerned about the fact that Erica can't seem to grasp a glass. She wants to do some tests, but Erica puts the kibosh on that idea. Amelia convinces Charlotte to get hold of Erica's medical records. The news is not good. Mason's mom has an inoperable brain tumor.
Charlotte wants Erica to tell Cooper about her health issues. That's not going to happen. Furthermore, Erica promises to disappear with Mason if Charlotte says anything. Coop senses something's up with his wife, but he has no idea what's wrong. Later, Erica shows up to speak with Cooper in private. Charlotte stays behind with Mason. They practice more spelling. The word of the moment is "acceptable."
Sheldon has a session with Aaron, a cop who shot a young man. The kid had just been involved in an armed robbery. He reached for something, so Aaron shot him. As it turns out, the suspect was unarmed. Sheldon's police pal, Joe, wants him to rubber stamp this young officer as mentally healthy so he can get back to active duty. But is Aaron ready?
Aaron admits to Sheldon that he didn't really see the suspect reach for anything. He was just scared and reacted. The case causes much tension between Sheldon and Joe. They both know that this young officer's career will likely be over if the truth comes out. Aaron is a good man who made a mistake. Sheldon helps him find the courage to tell that to his superiors. But his friendship with Joe may be over.
A handsome young paramedic, Scott, is impressed with Violet after she calms a disturbed young man, so he asks her out. She politely declines, as this just isn't the best time for her right now. Hey, breakups are hard, right? Guess that's why Sam and Pete are up for a boys' night out with Cooper and Jake to take their minds off their relationship issues.
Sam hits it off with a lady he meets at the bar. Pete, too. After some speed-flirting, the two recently-single men leave the bar with their instant dates. Pete and his lady don't even wait to get a room. They just go at each other in an elevator. Sam, however, spends the night with his lady. He tells her that he probably won't be seeing her again, as he still has Addison on his mind.
Violet pretends to be okay with the fact that Pete was with another woman. She's not, as she breaks down in tears in private. Violet bounces back by asking that handsome young paramedic out on a date. They end up sharing a kiss in the hills under the Hollywood sign. It's no elevator, but it's not bad.
Addison is exhausted from all of her baby issues. Jake believes she still wants a child. He assures her that she doesn't need to feel alone because she has him. It's a nice, heartfelt speech that puts Addison completely at ease. She asks him to help her find a surrogate. Addy vows to her therapist that she's going to have a baby.