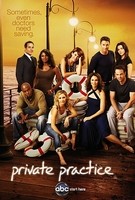 TV Info
---
Episode Premiere
May 05, 2011

Distributor
ABC

Genre
Drama, Comedy

Show Period
2007 - 2013

Production Company
ABC, ShondaLand


Cast and Crew
---
Director
Mark Turner
Screenwriter
Sanford Golden, Karen Wyscarver
Main Cast
Additional Cast
Synopsis
---
Cooper's parents aren't all that fond of the fact that their son is marrying Charlotte. They've never actually met her before now, but they've heard all the stories of how she hurt their baby boy in the past. Charlotte's mom isn't crazy about Coop's folks either. She thinks they make too much of a fuss over Violet. Charlotte and Coop get into a spat about the various eccentricities of everyone's parents. Don't you just love family gatherings?
Naomi is back from Africa, but she's not talking to either Addison or Sam. Speaking of those two, they've ended their relationship but will keep things quiet until after Cooper and Charlotte's wedding. You heard us. AddiSam is no more. As for Naomi, she's not the only one back in town. Fife has returned, too. And he's still in hot pursuit of Naomi.
Fife wants to surgically zap the depression out of Naomi's elderly patient, Marion. Sheldon has a chat with the lady to make sure her illness isn't affecting her ability to make a decision about treatment. As it turns out, Marion is depressed because she regrets how poorly she treated a man she loved just before he died. Naomi overhears Fife comforting the woman. It makes her think twice about shooing this guy away.
Addison and Pete are interviewed regarding Violet's license investigation. The questioning does not go well. Oh, and remember how Addy promised to keep her breakup a secret? Yeah, that didn't take. She blabs to Naomi which, of course, ticks off Sam. He's at the point where he doesn't even want to be friends with her. As for the Violet situation, the investigators now want to see records of other patients of Oceanside.
Charlotte asks Amelia to be her Maid of Honor. They don't know each other very well, but Charlotte feels the fact that they are fellow addicts makes them BBFs. Amelia's duties include throwing a pre-wedding dinner party. Let's just say the bash isn't exactly a raging success.
With all that's been going on, no one at the dinner is having any fun. Correction-Fife's having a blast after Naomi plants a kiss on him. And, miracle of miracles, the parents of the future bride and groom seem to be getting along, too. But that's only because they all believe these two crazy kids should NOT get married. That leaves Cooper and Charlotte with just one option: Vegas baby!
Yes, Cooper and Charlotte jet off to Sin City to tie the knot in the first Chapel-O-Love they see. FYI, their minister was not dressed as Elvis. They text their guests to say enjoy the food at the reception back home. As far as the parents are concerned, they'll just be enjoying the open bar.
Violet apologizes to her friends for dragging them into her drama. But she won't apologize to the medical board for what she wrote. Her book reflected the kind of practice they have. They are friends and colleagues who rely on each other to help their patients. And you shouldn't have to apologize for something like that. Something like that should make you proud.
As the reception continues, Amelia makes a toast to the MIA bride and groom. She's obviously shaken the moment she realizes her drink is not ginger ale. As for Addison, she stands alone at the edge of the dance floor watching everyone else having a swell time. It's obvious she feels very disconnected from her friends, so she opts to head home. Alone.