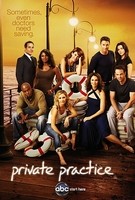 TV Info
---
Episode Premiere
January 06, 2011

Distributor
ABC

Genre
Drama, Comedy

Show Period
2007 - 2013

Production Company
ABC, ShondaLand


Cast and Crew
---
Director
Eric Stoltz
Screenwriter
Zahir McGhee
Main Cast
Additional Cast
JoBeth Williams
Cristian de la Fuente
Ann Cusack
Naoko Mori
Tara Summers
Synopsis
---
Addison's mom, Bizzy, wants her to save her lover Susan's life. That'll be a tall task since Susan has Stage 4 ovarian cancer. Addison says there's nothing she can do. Susan is going to die. Bizzy says that's acceptable and slaps Addison across the face. She screams, "You will save her life!" Addison is stunned. Frankly, so are we.
Remember Dr. Rodriguez? He's that handsome oncologist we met in In and Out. Well, the dreamy doc is back and still has a little thing for Addison. He's bummed to learn that the only reason she called is for help with Susan's case. Once they see that the cancer has spread to the liver, both agree there are no real options. As you may have guessed, Bizzy isn't very responsive to this news, so she lays into Addison again.
Sam wants to give Addy's mom a piece of his mind, but he's caught of guard at the sight of Bizzy crying. She came here because her daughter is the very best at what she does, even though she'll never say that to her face. Sam realizes Bizzy is right. He approaches Addy and says, "You are Addison Forbes Montgomery. World class surgeon. And I have never ever seen you back away from a fight." Come to think of it, neither have we.
Addison wants to operate on Susan using a machine that will allow her to cut in ways she could never do with her hands. She'll need help from Dr. Rodriguez to infuse heated chemo to kill any disease she leaves behind. Rodriguez is skeptical, but in. Hey, at least this way he gets to spend a little more time with Addy.
The operation is a success, but that doesn't mean Addison is about to get a thank you from Bizzy. Naomi believes that the only way she's ever going to get anything from her mom is to ask for it. Good plan. Addison storms into Susan's recovery room, but her mom stops her before she can get started. Bizzy says, "I've divorced your father and I'm marrying Susan." Once again, Addison is stunned. Once again, so are we.
Cory Ramsey is a brilliant engineer whose brain is about to burst after a near-fatal car accident. The damaged portions of his brain need to be removed to relieve the pressure. The patient's wife, Patricia, doesn't want any procedure that will affect his mental capacity. This frustrates Pete, as well as the guy's secret girlfriend, Janel. She doesn't care about Cory's mental capacity. She just wants him to live.
When Cory starts to crash, Pete must relieve the pressure on his brain immediately. He does so without the wife's permission. Patricia still won't agree to the surgery. She wants him to be the genius he was meant to be. Janel just wants him to be alive to see the birth of his child. The surgery is a success, but only Janel goes to see Cory. For Patricia, the man she knew is gone.
Violet has been keeping a journal to help her deal with her attack. It's 837 pages long, so it's not really a journal. It's a book that has sparked interest from a publisher. Naomi and Sheldon think the memoir is brilliant. Pete thinks it's great, too. He just wonders if she really wants to expose the intimate details of what happened to her to the world. Now, Violet is wondering the exact same thing.
Charlotte says that it helped when Violet talked to her about her rape. This has our favorite aspiring author thinking that her written words may help others, too. She's headed for New York to meet with the publishers with Pete's full support. He says, "Lucas's mom is amazing." Agreed.
Cooper tells Sheldon that he wants to have sex. Sheldon is, of course, flattered. But seriously, he suggests Coop ease back into things with Charlotte. So, he gets some fried chicken. If they can't have sex, at least they can share a greasy meal together. Charlotte appreciates the gesture and surprises Coop when she says they can give intimacy a try later that night. But when the time arrives, it's obvious that Charlotte still isn't ready.
Charlotte wants to try again, but now it's Cooper who is unsure. It's a struggle for these two. But they aren't about to give up on each other. The intimacy thing is going to take some time. Until then, they'll just keep eating fried chicken. Mmmm.